Banking - Finance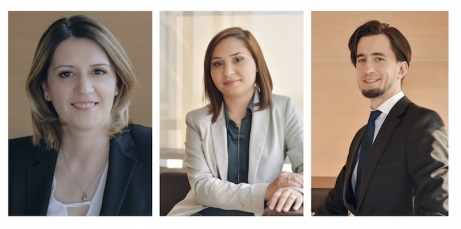 May 23, 2019 14:36
Clifford Chance Badea, the local office of global law firm Clifford Chance, has advised NE Property B.V. in relation with the implementation of the EUR 1.5 billion Guaranteed Euro Medium Term Programme guaranteed by NEPI Rockcastle plc, as well as
more »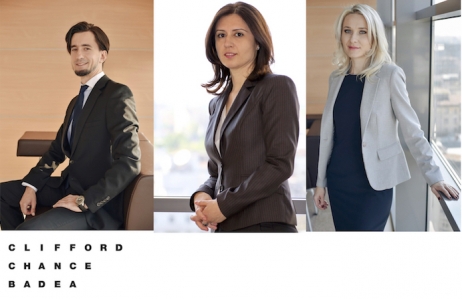 April 10, 2019 09:27
Clifford Chance Badea, the local office of global law firm Clifford Chance, has advised Alpha Bank România in relation to the first covered bond programme established in Romania, for the amount of EUR 1 billion. The program comes three years
more »

April 10, 2019 09:20
RTPR Allen & Overy has advised Barclays Bank PLC as arranger for Alpha Bank Romania on the first mortgage bonds issue programme in Romania with a value of EUR 1 billion. The RTPR Allen & Overy team was led by Andreea Burtoiu (Co...
more »

February 07, 2019 13:21
Deloitte Romania and Reff & Associates, assisted Patria Bank in the sale process of a portfolio of debts worth a total of 502 million lei to KRUK. The portfolio put on sale was segmented in two installments, each sold as a result of a dedicated competitive buyer selection process. ...
more »

January 25, 2019 11:15
Allen & Overy's Bucharest and Bratislava offices have advised a syndicate of banks made up of Raiffeisen Bank International and Raiffeisen Bank Romania as coordinators and Raiffeisen Bank International, Banca Transilvania, UniCredit Bank, Gar...
more »

December 12, 2018 16:12
A multi-jurisdictional Dentons team has advised the Special Investments Group of Credit Suisse AG on the €30 million financing for Chimcomplex's acquisition of certain assets owned by Oltchim. The financing was completed in parallel with a credit extended by VTB Bank. The combined value of the transaction is €164 million. With the acquisitions, Chimcomplex is now one of the most important chemical manufacturers in Romania....
more »

December 04, 2018 15:44
Dentons has advised the syndicate of four banks formed by Bank PekaoS.A., Česká spořitelna, a.s., PKO BP and ING Bank Śląski on the successive financing of AmRest Group. On October 1, 2018, the parties signed an amendment to the facilitie...
more »

November 02, 2018 13:31
Ţuca Zbârcea & Asociaţii offered legal assistance services to the bank syndicate and the team of lawyers included Mihai Dudoiu, Partner, Cătălin Georgescu, Managing Associate and Sergiu Negreanu, Attorney-at-Law.The MedLife Board of Directors si...
more »

June 11, 2018 14:10
Clifford Chance Badea, the local office of global law firm Clifford Chance, has advised BNP Paribas Leasing in the acquisition of shares in two Romanian companies from German-based group IKB that is exiting the local market. The deal involv...
more »

April 04, 2018 14:17
Banca Transilvania became the owner of the majority shareholding (99.15%) owned by Eurobank Group at Bancpost, respectively of the shares held in ERB Retail Services IFN and ERB Leasing IFN. With the completion of the transaction between Eurobank Group and BT, the integration of these entities into the Banca Transilvania Financial Group begins....
more »