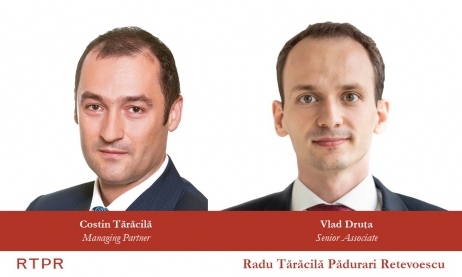 RTPR has assisted GreenGroup, a company in the portfolio of private equity fund Abris Capital Partners, in relation to the acquisition of UAB Ecso, a Lithuanian LDPE (Low Density Polyethylene) recycling company. GreenGroup is the circular economy leader in Central Europe, specialised in recyclable waste management, recycling and recovery of various types of waste.
The project team was made of Costin Taracila (Managing Partner), Vlad Druta (Senior Associate) and Miruna Tocileanu(Junior Associate), and further included Ana Maria Barbu (Senior Associate), Marina Fecheta-Giurgica (Managing Associate) and Filip Marinau (Junior Associate). RTPR acted as lead legal counsel, with TGS Baltics acting as legal advisor in connection with the due diligence phase and Lithuanian law-related advice.
With 15 signed M&A transactions assisted in 2022 till now after having advised on another 20 in 2021, RTPR is a market leader and the firm of choice for M&A deals for private equity houses, entrepreneurs but also corporates.
"I am pleased to announce a new M&A transaction. Abris Capital Partners' vision to have GreenGroup as the leading circular economy player in CEE is impressive and we are honoured to be able to contribute our M&A expertise to their ambitious strategy.
We have already signed 15 M&A mandates from the beginning of this year. Our corporate/M&A team had a "hot" summer, with many important projects, in the last 3 weeks only we signed 5 deals and we are working on some others that are close to an end. Congratulations to our entire team!", said Costin Taracila, Managing Partner of RTPR.
UAB Ecso is GreenGroup's second add-on in recent weeks, following the acquisition of SIGAD, a Romanian developer of environmental reporting software, in July.
Adrian Stănculescu, Partner and Head of Abris Romania, commented: "This latest acquisition consolidates GreenGroup's recycling activities over the past 20 years and is a decisive step in the Group's strategy to become a key player in polyolefins recycling in the region. Furthermore, it is a strategic investment that reinforces the Group's commitment to sustainability and to tackling the most pressing environmental issues, such as plastic pollution and reducing carbon footprints."
Central European investor Abris first invested in GreenGroup in 2016 and has since partnered with the firm's management team to expand the business organically and through acquisition, and to build the leading circular economy player in CEE.
UAB Ecso was created in 2009 and developed into the leading polyethylene recycler in Lithuania. Currently, the company has an annual capacity to process 20,000 tons of film waste per year from household and industrial post-consumption, transforming it into recycled LDPE granules, thus addressing the needs of European producers for good-quality recycled input. Polyethylene is one of the most common types of plastics, amounting to 40% of total plastics consumption in Europe.
"Such materials have a low collection rate, and they require significant investments in advanced recycling technologies. Therefore, they are the most likely to reach incineration or landfills. By integrating UAB Ecso within GreenGroup's ecosystem, we are certain to accelerate the circular economy of plastics, playing an important role in reducing pollution and in recovering a valuable resource for the economy" stated Vladas Venskutonis, UAB Ecso Founder.
Recycled polyethylene granules have multiple applications, especially in the packaging industry, while demand for LDPE packaging applications is soaring across the retail and industrial sectors.
"The Lithuanian model proved to be a local success for closed-loop resourcing of plastic waste, aligned with the circular economy objectives. With this investment, we are positioning the Group as the first line of defense for limiting the environmental impact of single-use plastics – a group fitting both PET and polyolefins. Our objective is to scale this model in the region and other countries as well" commented Constantin Damov, GreenGroup Chairman of the Board.