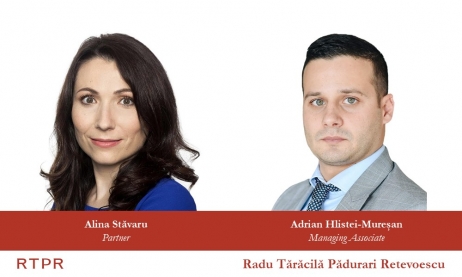 RTPR has assisted Catalyst Romania Fund II in relation to the acquisition of a minority stake in Evolution Prest Systems S.R.L., the company that owns the e-commerce website www.evoMAG.ro specialised in IT&C, telecoms and FMCG products.
"As always, we can rely on RTPR to deliver best in class legal counsel and to assist us navigate the bumpy road from the due diligence stage to the closing arrangements. The team, led by Alina Stăvaru, has been proficient and solution-oriented in a timely manner", stated Alin Stanciu, Partner Catalyst Romania.
RTPR involved in this transaction a team made of Alina Stavaru (Partner) and Adrian Hlistei-Muresan (Managing Associate) for the transaction documents, and further included Ana Maria Barbu (Senior Associate), Diana Dimitriu(Managing Associate) and Miruna Tocileanu (Junior Associate) for the due diligence, as well as Roxana Ionescu (Partner) and Serban Halmagean (Associate) for the competition aspects.
"The satisfaction of closing a transaction is even bigger when a client returns to you over and over again. Then you know you have really added value and your advice is appreciated. This is also the case of Catalyst Romania, which is one of our clients with whom we have closed many successful transactions. We are happy to have assisted them once more and I would like to thank them for putting their trust in us for each new project", said Alina Stavaru, Partner at RTPR.