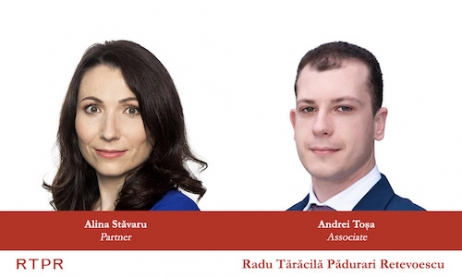 RTPR assisted the shareholders of Berg Software in relation to the sale of 100% of the company to AROBS Transilvania Software, a provider of software services and solutions for various industries. Having 30 years of experience in the IT sector, Berg Software is a local software outsourcing and custom software development company, with a presence in the Western part of the country with offices in Timisoara, Lugoj and Oradea.
The team of lawyers comprising Alina Stavaru (Partner) and Andrei Tosa (Associate) advised on all stages of the sale process – structuring, due diligence, transaction documents. The team was also supported by Ianita Tui (Counsel) for real estate matters and Vicu Buzac (Senior Associate) as regards intellectual property aspects.
"We are very pleased with the collaboration with the RTPR team, who guided us professionally along the sale process, demonstrating a very good understanding of the field in which we operate, in addition to their recognised experience in M&A. This moment is a celebration of the valuable experience gained in the last 30 years, but also a new beginning together with the great AROBS family.", declared Rodica Berg, founder & CEO of Berg Software.
"Undoubtedly, the IT sector is one of the most effervescent in Romania. Almost daily we read about new developments, start-ups or industry giants that want to enter the Romanian market. This time we see a transaction between two Romanian entrepreneurs, two solid businesses, with development plans and future projects, a successful model for other players at the beginning of the road. We are happy to have advised Berg Software and we would like to congratulate them for the signing of this deal.", declared Alina Stavaru, Partner RTPR.