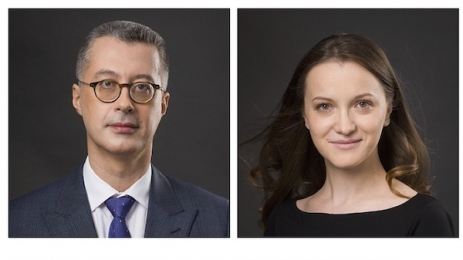 Marian Dinu and Oana Duţu-Buzura, DLA Piper
DLA Piper assisted private equity fund ABRIS, in the successful acquisition of Dentatechnica, the largest distributor of materials and equipment for the dental care market in Bulgaria. Dentatechnica has been active on the Bulgarian market for 30 years, supplying a selection of high-quality products for more than 3,000 dental clinics and laboratories across the country. The implementation of the transaction is subject to approval by the competition authorities.
The advisory team for Abris included Corporate lawyers Oana Duţu-Buzura, Bogdan Buta, Denisa Achim-Postea and Sandra Cahu-Ionescu from DLA Piper's Bucharest office, coordinated by Marian Dinu, Country Managing Partner. Kambourov & Partners assisted with the Bulgarian law aspects of the transaction.
Marian Dinu, Country Managing Partner for DLA Piper Romania and Head of Corporate M&A, commented on the deal: "This is yet another rewarding moment in our long-standing partnership with Abris, having previously advised on a number of their deals. We are happy to have been able to assist on Dentatechnica's acquisition which marks Dentotal's entry on the Bulgarian market and is also a first for Abris generally. I would like to thank Abris team for the opportunity of working closely on this transaction. I would also like to thank my colleagues as well as our Bulgarian friends from Kambourov & Partners for their tireless efforts to get this transaction to a successful signing."
Oana Duţu-Buzura, leading Counsel in DLA Piper Romania's Corporate M&A team, expressed her enthusiasm for the signing of the transaction: "With every Abris new deal we assist, we add a great deal of experience to our private equity portfolio. Having worked for so long together, we have been able to streamline our workflow with Abris team to the point where we act as a single entity."