ALBU MORAR
Address:
23 Roma Street, 1st District, Bucharest, RO-011773, Romania; (entrance and post deliveries at 27 Washington Street, RO-011793)
Tel:
+40 31 425 48 64
E-mail:
office@albulegal.ro
Most senior representative:
Gabriel Albu
No. of local partners:
2
No. of lawyers:
6
Year founded in Romania:
2020
Offices in Romania:
Bucharest
Representative clients include:
Rompetrol/KazMunayGas, RCS & RDS/Digi, Rominserv (part of Rompetrol Group), OMV Petrom, Anchor Grup, Intrarom, Immofinanz, Globe Ground, Key Way Group, Macromex.
Partners and heads of practice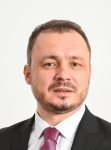 Gabriel Albu, Founding and Managing Partner
Gabriel is the Founding and Managing Partner of Albu Legal, a boutique law firm specialized in white collar crime, criminal and administrative prevention, internal and anti-fraud investigations, human rights protection procedures, defense of the crime victims' rights, as well as in any related litigation and non-litigation issues. Prior to being a founding partner of the firm, he worked for Linklaters, Cameron McKenna Salans (now Dentons), mostly as a commercial, tax and regulatory litigator, but also strongly involved in consultancy. He then became one of the founding partners and long-standing managing partner, practicing for 12 years in an independent law firm focused on white-collar crime.
List of the most representative projects
White Collar Crime
Assisted KazMunayGas International/Rompetrol in relation to allegations of fraud, embezzlement and abuse of office in relation with privatization procedures and state debt rescheduling. Value: €700 million.
Assisted RCS&RDS/Digi in court trial regarding allegations of bribery and money laundering in connection with acquisition of football related TV rights. Value: Approx. €3,5 million. Possibility of being significantly incremented by confiscations and fines.
Advised Rominserv (part of Rompetrol Group) in a case involving manslaughter and HSQE offences.
Assisted Intrarom in an investigation regarding fraud and embezzlement acts. Value: Approx. RON2,6 million. The law firm also assisted the client in court trial regarding allegations of tax evasion. Value: Approx. €3,3 million.
Assisted Anchor Grup in court trial in reference to an occupational accident.
Specialist Lawyers: Gabriel Albu, Ana Popescu, Mihai Lemnaru, Mihai Morar.