MPR PARTNERS | MARAVELA, POPESCU & ASOCIATII
Address:
6A Barbu Delavrancea Street, Building C, Ground Floor, 1st District, Bucharest, RO-011355, Romania
Tel:
+40 21 310 17 17
Fax:
+40 21 310 17 18
E-mail:
office@mprpartners.com
Web:
www.mprpartners.com
Most senior representative:
Gelu Maravela, Founding Partner
No. of local partners:
5
No. of lawyers:
25
Offices in Romania:
Bucharest
Representative clients include:
Aegean Airlines, Air France/KLM, Astra Rail Industries (Greenbrier Group), Autotehnica Fleet Services (Hertz), B Braun Avitum, Eberspaecher, Interparking, Romanian Ministry of Public Finance, Salomon, Teamnet.
Partners and heads of practice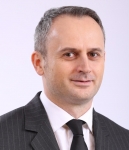 Gelu Maravela, Founding Partner
Practice Areas: M&A; Energy and Natural resources; PPP & Public Procurement; Capital Markets; Dispute Resolution; Regulatory; Pharmaceuticals & Healthcare; Aviation
Gelu Titus Maravela has over 20 years of experience in the legal profession and he has previously acted as a judge with one of the Bucharest courts as well as an attorney with the London office of a Magic Circle law firm and an equity partner of a top tier Romanian law firm. Throughout his practice, Gelu has been lead counsel in a large number of high value projects and has worked for an outstanding number of high profile corporations doing business in Romania as well as for many public authorities, being praised for his results-driven, business-oriented approach, negotiation skills and multi-angled strategic thinking.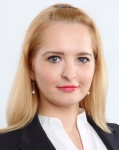 Alina Popescu, Founding Partner
Practice Areas: Competition, M&A, Corporate, Employment, Data Protection, Technology, Arbitration
Alina has been at the forefront of some of the largest projects and transactions as well as of some of the most significant commercial and investment arbitrations involving Romanian counsels.
She is an internationally commended lawyer with extensive expertise in M&A, competition, technology and commercial & corporate projects as well as in regulatory and international arbitration matters. In addition, Alina's expertise encompasses the amicable settlement of disputes and the configuration of the client's pre-litigation conduct meant at achieving a favourable out-of-court settlement and to increase chances for success in court.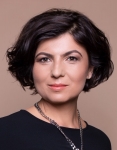 Dana Radulescu, Partner
Practice Areas: Insolvency; M&A; Banking & Finance; Real Estate
A former partner with leading Romanian law firms, Dana Rădulescu specializes in M&A, corporate financing, capital markets, public procurement and regulatory & compliance matters, having acted as lead counsel in many of the country's large projects. Dana represented major clients acting in a diverse range of industries with regard to intricate legal matters stemming investments & divestiture projects, including as regards deal structuring, as well as from various business restructuring projects, transfers of business and assets as part of complex reorganization plans.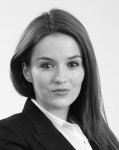 Alexandra Rimbu, Partner
Practice Areas: Employment; Real Estate; Dispute Resolution; PPP & Public Procurement; Regulatory
Alexandra is an experienced attorney, assisting top international corporations and investors in numerous industries. Alexandra acts as lead counsel in a variety of corporate/M&A, commercial, contract law as well as competition and IP matters. Her expertise equally extends to employment, construction & infrastructure and PPP as well as dispute resolution and arbitration matters. Previously a member of reputed business law firms, Alexandra possesses excellent communication skills and is praised for her efficient and prompt approach to matters, regardless of their complexity.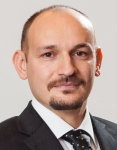 Felix Tapai, Partner
Practice Area: Tax
Felix has over 15 years of practice in the finance and tax advisory sectors, his broad experience ranging from financial audit, consultancy and compliance to the design and implementation of efficient tax structures. He has successfully assisted large Romanian corporations and the State Fiscal Administration as well as foreign NYSE listed development services groups and financial services companies. Among Felix's achievements and skills, we mention efficient VAT optimization, thorough reporting and compliance resulting in impeccably clean audits from the National Bank of Romania (NBR), complex and accurate risk assessment and excellent project and budget management and coordination proven abilities.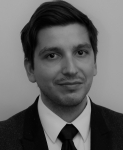 Daniel Alexie, Managing Associate
Practice Areas: Corporate/M&A; Data Protection; Technology
Daniel provides valuable assistance to major corporate clients with regard to various legal advisory matters, spanning IP, IT & Telecom, data privacy (assisting clients on adapting their corporate policy to comply with EU and Romanian privacy laws, including the upcoming General Data Protection Regulation) as well as advertising and consumer protection aspects. His expertise equally covers M&A, corporate & commercial, competition and employment areas of practice. Daniel represents sound international and local clients in various sectors such as industry, services, entertainment and healthcare.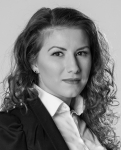 Anca Baitan, Managing Associate
Practice Areas: Insolvency; Dispute Resolution
Anca assists clients fields of insolvency, bankruptcy, litigation and arbitration on both national and international cases, her practice being focused on administrative and commercial disputes. She represents companies from various key industry sectors before relevant institutions such as courts of law, arbitral tribunals, central and local authorities, etc. Anca's expertise equally extends to insolvency matters, as she handles for both creditors and debtors a wide range of services including debt recovery, insolvency procedures, representation before courts, elaborating the strategy for the commencement of the insolvency procedure and through the reorganization procedure, etc.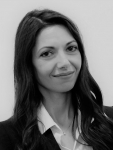 Mihaela Nyerges, Managing Associate
Practice Areas: Energy and Natural Resources; M&A; Corporate; Commercial
With more than 15 years of impressive experience in mergers & acquisitions as well as corporate and commercial law, Mihaela is a senior member of the firm's consultancy department. She has broad expertise in the development of complex investment projects in the energy field (with focus on renewable energy and cogenerated heat), as well as in the elaboration of regulations in the electricity trading and generation of power from renewable energy sources. Throughout her career, Mihaela assisted governmental authorities, publicly held companies as well as domestic and international private entities in a wide variety of legal matters.
List of the most representative projects
Corporate and M&A
Assisted Alpha Parking, part of the Belgian Interparking Group, a major European parkings operator and developer in connection with the acquisition of an important parking in the center of Bucharest.
Advising major European airlines, Air France and KLM, in connection with various matters requiring the application of Romanian Law. The law firm advised the clients on their corporate and commercial policies, as well as other matters specific to airline industry activity, including customer claims and debt collection, commercial and contract law, advertising law, employment matters, as well as competition and GDPR compliance matters.
The firm acting for a leading global producer of sports equipment, in connection with its acquisition of a production facility of a major supplier of sports equipment parts and manufacturing services.
The firm is advising a major American investment fund, in relation to its proposed acquisition of a company active in the mining and natural resources' exploitation sector, which is currently undergoing insolvency proceedings, in a multimillion Euro transaction.
The law firm acted for the bond credit rating business of a corporation, in relation to its purchase of an IT company, in a multimillion Euro transaction.
Specialist lawyers: Gelu Maravela, Alina Popescu, Dana Radulescu, Alexandra Rimbu.
Banking
Retained by two distinct Clients in order to assist with financing and both phases of complex wind energy projects, totalizing 700 MW.
Specilist lawyers: Alina Popescu, Gelu Maravela.
Energy and Natural Resources
Representing the Romanian Ministry of Public Finance in an ICSID arbitration where claimants, that are from various jurisdictions, Austria, the Netherlands, Germany, Romania and Cyprus (a total of 10 companies), have substantial monetary claims against Romania, with regard to legislative changes, concerning green energy legislation.
Assisting a major aggregates and concrete producer active in Europe, and owner one of the largest granite quarries in Romania in connection with a wide range of matters, including general assistance in coordinating and supervising its business activity in the context of a supervised reorganisation.
Retained by two distinct Clients in order to assist with both phases of complex wind energy projects, totalizing 700 MW.
Representing a prominent investment firm focused on the energy and defense sectors, in connection with its purported acquisition of a local company active in the extractive industry specialising in mining projects for extraction and processing of brucite and associated rocks, which is currently undergoing insolvency proceedings.
Specialist lawyers: Gelu Maravela, Alina Popescu, Dana Radulescu, Mihaela Nyerges.
Competition
Assisted J. Christof E&P Services and Christof Private Firefighting Services with the notification to Romanian and Serbian competition authorities of the economic concentration arisen from the externalization by OMV Petrom of several operations and general surface services, ancillary to extraction and production of petroleum as well as natural gas, together with the relevant assets and dedicated staff.
Assisted and represented a leading global provider of information and communications technology (ICT) infrastructure and smart devices in front of the Competition Council with regard to the submission of a formal complaint regarding the competition-law related issues deriving from the publication and promotion by the Ministry of Transports, Infrastructure and Communications and the Government of Romania of the Draft Law on 5G Technology. The matter is unprecedented since it is within the context of the regulation of the authorisation of producers of technologies, equipment and software for 5G networks in Romania and given the overall context it raises specific issues on the relevant markets in Romania.
Retained by a world renowned producer of spices with regards to the analysis and review of a cross border distribution agreement from the perspective of EU and Romanian competition law.
Assisted the financial services division of a leading automotive manufacturer with regards to the exchange of sensitive information within the client's group and drafted personalized recommendations regarding the exchange of sensitive of information within the different entities of the client's group.
Retained by a world renowned producer of pharmaceutical products in order to provide an analysis of the practice consisting of granting pharmaceutical commercial products to end customer as free gifts from the perspective of competition law, from three perspectives: (i) abuse of dominance, (ii) anticompetitive agreements and (iii) unfair competition.
Specialist lawyer: Alina Popescu.
Real Estate
Advising a major German investment group with regards to the multimillion sale of a large office building and adjacent land.
Assisted a major sports manufacturer in an acquisition equally with regards to real estate aspects (the firm's team has conducted full title diligence on industrial buildings as well as appurtenant and neighbouring lands, and also drafted and negotiated transaction documents, have assisted with permitting and construction works hand-over).
Advised an important real estate developer in the acquisition of a meat production facility and the appurtenant land. The mandate included performing the due diligence, drafting the sale and purchase agreement and all related documents, coordinating the legal work for the completion of the transaction. The deal was complex due to the fact that the initial owner of the property was an insolvent company while the seller is facing some financial difficulties at its turn which needed to be addressed under the transaction documents.
Assisted a major producer of sports items in relation to the conclusion of a refurbishment general contractor agreement for the existing facility and a general contractor agreement for the construction of a new facility. The mandate included complex negotiations with the general contractor, drafting the general contractor agreement and related annexes, supervision and coordination of the technical experts, drafting necessary documentation for utilities relocation.
Retained by a major parkings operator and developer, in order to acquire the privately held parking located in the center of Bucharest, for operation as well as rehabilitation and car flow optimization works. The work includes complete due diligence from a legal and tax perspective in respect of the purported acquisition, as well as the negotiation and drafting of the full suite of transaction documents and in relation to future rehabilitation works (construction permits and subsequent regulatory aspects for adding further access paths for both cars and pedestrians).
Specialist lawyers: Gelu Maravela, Alexandra Rimbu, Dana Radulescu.
Litigation and Dispute Resolution
Assisting two major European airlines with reference to a portfolio of litigation cases arising from passenger claims resulting from flight delays or baggage's' late arrival at destination. Many of claimants file their claims through companies based in tax haven territories that advertise swift recovery of the alleged damages.
Retained by a major foreign publishing house in pursuing the recovery of contractual debts from an important press distributor by triggering its insolvency.
Assisting a major radio scanning devices producer in a purported patent infringement case in the context of a public acquisition procedure.
Assisting one of the leading financial services providers in the auto industry in a portfolio of litigations, some having insolvency and cross-border elements.
Representing a major infrastructure group with regards to the termination of a contract concerning the rehabilitation of the sewage system of an important city of Romania.
Specialist lawyers: Gelu Maravela, Alexandra Rimbu, Dana Radulescu, Anca Baitan.
Tax
Retained by an important German investment Group, in order to assist with all tax aspects pertaining to the sale of a major real estate property, covering both land and immovable assets thereon.
Retained by the a Lithuanian company active in clinical, regulatory and pharmacovigilance activities, in order to provide fiscal employment compliance services. The fiscal services consist in assistance required for Romanian employees in order to comply with tax obligation relating to salaries received by the said employees from the client.
Assistance to various major foreign companies concerning fiscal registration and obtaining of a Romanian VAT code in order to be able to carry out activities in the country. Assistance consists of drafting the relevant documents, submitting them to the relevant tax authorities and representation thereto; further assistance consists of VAT compliance (preparing and submitting VAT returns).
Assisting Bucharest's main up ground public transport provider, State-owned company, with day-to-day tax ad fiscal advice. Assistance includes VAT reporting, tax assessment (land and building local tax obligations), tax on salaries assistance, representation in front of relevant Tax Authorities, including in case of disputes, etc.
Assisting a major European sports equipment producer with regards tax day-to-day assistance, after the acquisition of a production unit for sports equipment, in the context of the business expansion strategy. Assistance includes VAT reporting, corporate income tax, representation in front of the relevant Tax Authorities, etc.
Specialist lawyer: Felix Tapai.
White Collar Crime
Representing various private individuals, national and international companies in connection with allegations of tax evasion and money laundering, in the context of investigations conducted by the National Anticorruption Department and the Directorate for Investigating Organized Crime (DIICOT);
Assisting an international sports equipment producer in an investigation concerning counterfeit products.
Assisting a leading healthcare services provider, in a complex file that included more than 30 companies and 60 individuals, including top management members of the National Health Insurance Organization in Romania, for alleged social health insurance fraud, wrongful usage of funds, corruption, position abuse, forgery etc.
Retained by a major European discount supermarket, in a complex criminal law portfolio (numerous distinct mandates), in connection to theft and fraud on the premises, vandalism and related criminal charges against the perpetrators.
Assisting a private individual, with regard to alleged abuse of office crime with a prejudice exceeding €10 million.