Events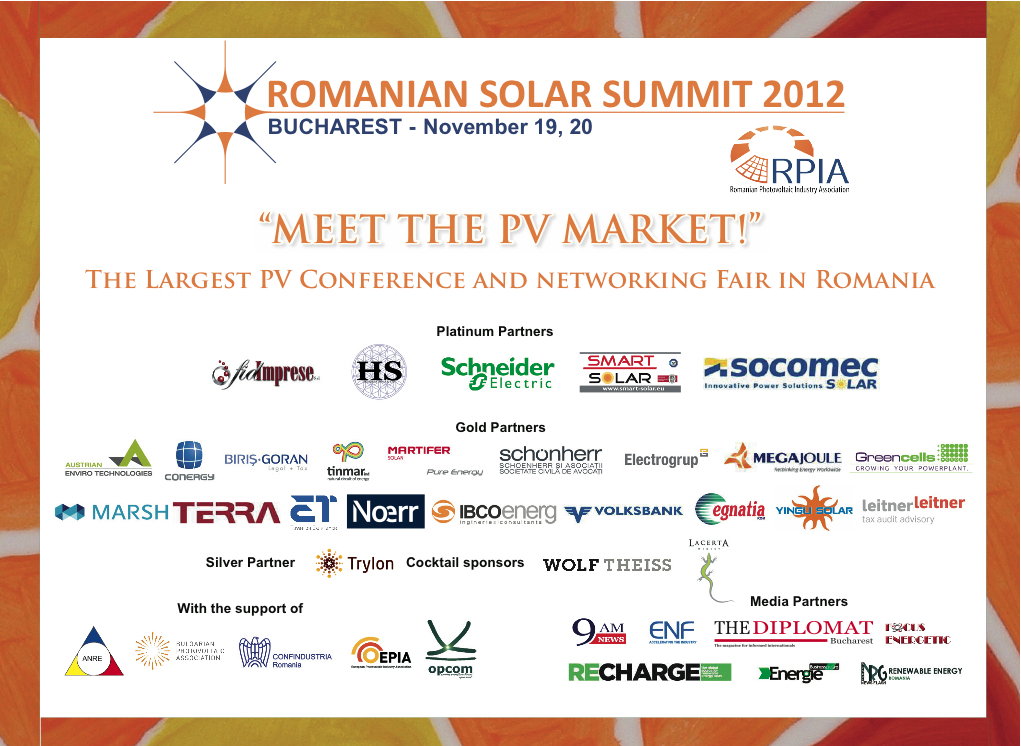 Romanian Solar Summit 2012 - first edition
November 19, 2012, HOTEL INTERCONTINENTAL, BUCHAREST
With over 100 national and international exhibitors, join the Romanian Solar Summit 2012 and expand your business in one of the world's fastest growing PV markets!
If you want to be in the know, you have to come closer to the makers!
In order to meet the major players interested in partnering and developing the market, Romania's premier solar show – The Romanian Solar Summit – is the place to be!
The gateway to Romanian solar players - theRomanian Solar Summit 2012, will offer you the unique chance and access to useful practical information from authorities and large companies with extensive experience in the photovoltaic industry, and the privilege to meet world players from the solar energy industry during networking time that will facilitate new partnerships, new connections, new business ideas and future growth.
Access practical useful information from well-prepared speakers, network with decision makers in the PV industry, source new ventures and showcase your expertise to investors and buyers throughout the world!
Why Romania?
- 6 Green Certificates /MWh for 15 years (if projects are completed by end of 2013)
- 1 GC = 27-55 Euro + Inflation Rate (Currently they are sold at 57 Euro)
- on top of the energy price on free market: approx. 50 Euro/MWh(coresponding to an FiT of 0.21 to 0.38 Euro / Wh)
- Less than 10 MW installed capacity in solar PV, compared to 1,100 in wind
- Goal: 20% energy from renewable sources in 2020
"Romania is the 6th most attractive country for investments in Europe for the next three years", according to 840 executives surveyed by Ernst & Young in the 2012 European Attractiveness report. Business leaders across the world find Romania more attractive than the Czech Republic, Switzerland, Netherlands, Italy, Spain, or Sweden.
"Romania was ranked 21stin the global solar indices on May 2012, before much insolated countries like Turkey or Egypt." Ernst & Young BOX
Target Audience:

influential regulators
forward-thinking utility companies,
decision makers in the solar PV industry - manufactures,
financial institutions,
EPC,
project developers,
vendors etc.
Program
08:30 - 09:00

Welcome coffee and delegates registration




09:00 - 11:00

SESSION 1 - REGULATORY AND POLITICAL ENVIRONMENT

Speakers:

Bogdan Olteanu, Vice-Governor, National Bank of Romania

Niculae Havrilet, President ANRE, Romanian Energy Regulatory Authority

"News on Renewable Energy Support Scheme in Romania" - Zoltan Nagy, General Director of Energy Efficiency Regulatory Department, Romanian Energy Regulatory Body ANRE

"Romanian Green Certificates Market – the role of OPCOM in the new legislative context" - Dida Vladescu, Senior Specialist Engineer, OPCOM - Romanian Power Market Operator

"Romanian law evolution" - Silvia Vlasceanu, General Director, Energy Utilities Association ACUE

"The new energy law – aspects related to the PV sector" - Ion Lungu, CEO CEZ Trade and President of the Association of Electricity Suppliers in Romania, AFEER

Representative of Transelectrica - Romanian National Power Grid Company

11:00 - 11:15

Coffee break




11:15 - 12:30

SESSION 2 - PERMITTING AND TAX ASPECTS OF PV PROJECTS

"The real estate side of PV parks: superficies or ownership?" Silvia Popa, Lawyer, Schoenherr

"What you need to know for a successful PV investment in Romania" - Laura Neacsu, Senior Associate, Energy Specialist, Noerr

"Structuring your investment in a tax efficient manner" - Gabriel Biris, Partner, BirisGoran

"Investing in Solar PV Projects – Practical Tax Considerations and Challenges" - Dan Marinescu, Tax Director, LeitnerLeitner

12:30 - 13:00

Networking lunch




13:00 - 14:45

SESSION 3 - FINANCIAL ISSUES AND BANKS PROCEDURES

"The Importance of being bankable" - Diego Teani, General Manager Fidimprese

"The challenges of financing renewable energy projects in Romania" – Mihnea Craciun, Principal Banker - Power & Energy Utilities, European Bank for Reconstruction and Development

"Building up cash flow and stress scenarios. Investor's involvement and engagement in a project" - Romulus Andrei, Head of Structured Finance Department, Volksbank Romania

"Due Diligence: the good, the bad, the ugly" - Doru Voicu, Senior Partner, IBCOenerg

"Managing risks for PV projects" - Radu Mustata, Business Development Coordinator, Marsh

14:45 - 16:30

SECTION 4 - INTERNATIONAL EXPERIENCE

"Why using an efficient and reliable conversion chain supplier matters in solar" - Pierre-Emmanuel FROT, Americas and EMEA Commercial VP - Solar Business, Schneider Electric

"Business models from other markets" - Halil Demirdag, CEO, Smart Group

"The new challenges of the european PV market - high quality at low prices" - Vasily Ribaulin, Professor Doctor of Science, Director of Development, Hermes Solar

"Challenges and demands for the Emerging PV Market" - Dr. Linhui Sui, CSO, Vice President, ET Solar Group & CEO of ET Solutions AG

"Mature vs Emerging Photovoltaic Markets " - Theodore Tsacheff, Director Business Development, Austrian Enviro Technologies

"PV market development in Bulgaria & lessons for Romania" - Nikola Gazdov, Chairman, Bulgarian Photovoltaic Association

08:30 - 09:00

Welcome coffee and delegates registration

09:00 - 10:30

SESSION 1 – EPC, ENGINEERING AND INSTALLERS

"Solar Resource Assessment - Dealing with the uncertainty" - Celso Costa, Solar Energy Consultant, Megajoule

"Building a PV plant - Risk Management in Engineering, Procurement and Construction" - Andreas Hoffmann, CEO, Greencells GmbH

"Key elements in a succesfull EPC contract" - Thomas Melitsis, General Manager, EGNATIA ROM

"PV Romania - time to take action, some recommendations from an experienced EPC Contractor" - Oscar Fonseca Marques, General Manager, Martifer Solar Romania

"Electrogrup - Turn-key contractor challenges in Renewable Energy Projects" - Virgil Pop, Operations Director, Electrogrup

10:30 - 10:45

Coffee break

10:45 - 12:00

SESSION 2 - EQUIPMENT SUPPLIERS

"Conergy track-record and expertise as global EPC and O&M contractor" - Ales Spacil, Business Development Manager – East Europe, Conergy

"High efficiency solutions for solar parks" - Mauro Cappellari , Solar Sales Manager, Socomec

"Terra Romania – A complete provider of equipments for the building and maintenance of PV parks" - Petre Babiceanu , Regional Manager Romania& Bulgaria, Terra Romania

"Yingli Solar - The World's No. 1 panel maker: A long term winner", - Apostolos N. Pappas, Director Sales & Business Development, Yingli Green Energy Greece Sales GmbH

12:00 - 13:00

Networking lunch

13:00 - 14:30

SESSION 3 - INVESTORS

"TINMAR Group - characteristics of developing a successful PV project in Romania" - Robert Ghelasi, Renewable Energy Development Manager, TINMAR GROUP

"EU and Chinese producers and suppliers for the new markets - Ukraine and other the CIS" - Julia Berezovski, Board member APEU Ukraine and Deputy Chairman of Expert Board of National Agency of Energy Efficiency Ukraine

David Yein, Project Manager, Abacus Fund

Sergio Bellato, Energy Deputy, Confindustria Romania and CEO Sesterzio Energia

Projects to go - expectations of investors

What projects are attractive in Romanian PV industry

14:30 - 15:30

Closing of the Second Day of the Summit Conference

Special networking time in the Fair Section
Speakers
This event is closed. See details of the speakers in the event programme.

Sponsors
Co-organizer
Romanian Solar Summit 2012
Media partners
Venue
Hotel Intercontinental
BUCHAREST
Phone: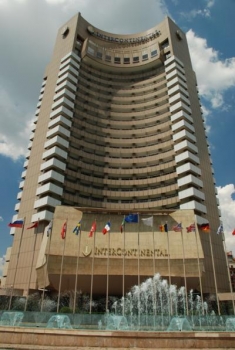 The Romanian Solar Summit 2012 will be organized at the InterContinental Hotel in Bucharest, Ronda and Rapsodia Ballroom.
InterContinental Bucharest is a five star hotel that provides a highclass background for conferences, receptions and other types of events.
Special accommodation rates and hotel reservation
Summit participants benefit from special accommodation rates. Please send your accommodation requests directly to:
Mrs. Simona Sercan – Senior Convention Sales Manager
e-mail: simona.sercan@interconti.ro
Tel:+4021.305.10.18


This event ended. Please follow us for the 2013 edition.