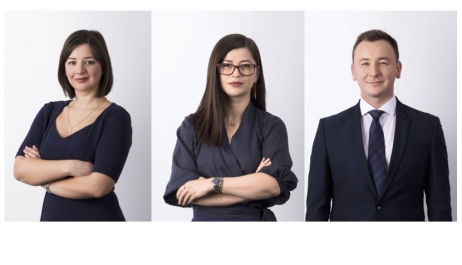 The Bucharest office of CEE / SEE law firm Wolf Theiss announces the promotion of Cornelia Postelnicu with the Corporate / M&A practice group and Andreea Tudorache and Alexandru Asaftei (both with the Banking & Finance practice group) to the positions of Senior Associate.
"Over the years, Cornelia, Andreea and Alexandru have contributed greatly to the success of the Bucharest office, providing critical assistance on some of the most significant transactions handled by Wolf Theiss in this market. They have received praise from clients for their legal knowledge and expertise and especially for their high professional and ethical standards, availability, collaboration, and understanding of client's needs. The promotion of these three lawyers is in recognition of the outstanding professional contributions they have made to the development of the Bucharest office and to the consolidation of its leading position on the Romanian market", declared Bryan W. Jardine, Managing Partner Wolf Theiss Bucharest office.
Cornelia Postelnicu is a member of the Corporate / M&A team in Wolf Theiss's Bucharest office since September 2019. She specializes in corporate law, mergers and acquisitions and commercial law, joint ventures, intra-group restructuring and insolvency. With nine years of professional experience, she has advised clients in various industries on due diligence reports and transactional documents involving asset sale / share deals, as well on various regulatory aspects. Prior to joining Wolf Theiss, Cornelia collaborated with one of the top international law firms in Romania, where she also advised clients on corporate, commercial and data privacy matters. In 2013, she was admitted to the Bucharest Bar.
Andreea Tudorache specialises in legal issues related to financing, banking and capital markets. Andreea is part of the Banking and Finance team in the Bucharest office and is a key member of the regional debt capital markets (DCM) team of Wolf Theiss since November 2018. With nine years of experience, Andreeahas advised clients on financing projects, NPL transactions, a wide range of financial regulatory issues, as well as for establishing and updating debt issuance programs (EMTN) and bond/notes issues and their admission to regulated markets. She holds a Bachelor's degree from the Faculty of Law, University of Bucharest, 2012 and a Master's degree in Business Law from the same university, 2014. Andreea also studied at Erasmus University Rotterdam (Netherlands), Law School.In 2013, she was admitted to the Bucharest Bar.
Alexandru Asaftei specialises in banking, finance, capital markets, private placements and insurances. His experience of almost ten years also covers corporate and M&A matters as he was involved in advising major companies in the sale of NPLs as well as real estate acquisitions. In 2012, Alexandru graduated the Faculty of Law at Bucharest University and then pursued a Master's degree in Business Law from the same university. In 2012, Alexandru was admitted to the Bucharest Bar.