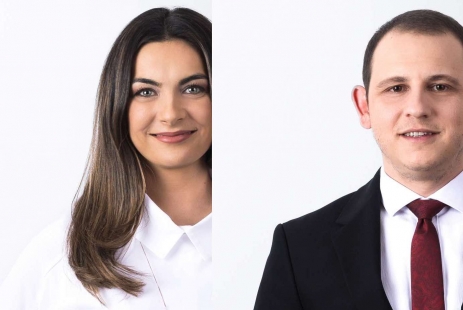 Andreea Stan and George Ghitu, Wolf Theiss
The Bucharest office of CEE / SEE law firm Wolf Theiss announces the internal promotions of two senior lawyers to Counsel within the Corporate / M&A and Employment teams. On May 1st, 2023, Andreea Stan and George Ghitu were promoted to Counsel positions on the Wolf Theiss Bucharest team.
Andreea Stan is a member of the Wolf Theiss Corporate/M&A and Employment teams in the Bucharest office. She has 10 years of experience and specialises in the field of labour law. Andreea enjoys a very good reputation in the employment field, as a result of her creative and practical approaches to resolving oftentimes difficult legal issues. Specifically, Andreea has handled pre-contentious employment conflicts and disputes as well as complicated collective and individual dismissal processes. She also coordinates projects that include complex restructuring and reorganization initiatives, in addition to employee transfers (with a cross-border focus, re-allocation of duties and advice on integration at the transferee entity level) and has supported clients with both day-to-day and sensitive and sophisticated employment and compliance advice. Andreea also advises clients on local and cross-border employment & management agreements, implementation of group-wide compliance policies, diversity and gender equality efforts and the investigation of fraudulent activities related to employment.
Andreea holds a bachelor's degree in Law from the University of Bucharest (2011) and has been member of the Bucharest Bar since 2013.
Andreea is part of the Wolf Theiss Diversity Team, and a member of AIJA and EELA. In March 2023, she was selected to participate in the second annual Tomorrow's Leaders thought-leadership survey by the Internal Employment Lawyer publication. In April 2023, Andreea was ranked for the 4th year in a row as a Rising Star by Legal 500.
Some of Andreea's most recent projects include advising the founders of the Romanian IT outsourcing company Fortech on their sale to GlobalLogic Inc., part of Hitachi Group; advising the leading toy manufacturer and distributor in the Turkish market Sunman Group on the acquisition of Romania's leading toys and games retailer Noriel; advising Oracle Romania on daily employment and HR legal matters.
George Ghitu is a key member of the Corporate/ M&A team in Bucharest. He specialises in corporate and commercial law, mergers and acquisitions, insurance and restructuring matters related to M&A deals. Over the years, he has been involved in a significant number of domestic and international M&A transactions, assisting clients in various business acquisitions and share deals, merger projects and business transfers. George is also frequently involved in complex corporate matters such as: squeeze-outs, the protection of minority shareholders, corporate liability matters and advising clients on high profile corporate governance issues. Prior to joining Wolf Theiss, George was part of the Corporate/M&A department of a top-tier local law firm.
In addition to his law degree, George also holds a degree from the Faculty of Economic Management of the Academy of Economic Studies in Bucharest.
George was a key contributor to the success of various transactions in a number of different industry sectors, including: Blackstone's acquisition of shares in Superbet, a top player in the gambling and casinos business; Arobs Transilvania Software's acquisition of Nordlogic, a group of companies specialized in custom software development and software product development; Novalpina Capital's acquisition of MaxBet, the Romanian leader in betting and gaming industry; the sale by Interglobe Enterprises Private Limited of its hospitality operations in Romania; the sale of FuelPlus business by FuelPlus Group, the leading provider of fuel administration and management software to the aviation industry; Glovo's acquisitions of Foodpanda in Romania and of other food delivery platforms in five CEE jurisdictions.
"Andreea and George have both been key players in the Wolf Theiss Bucharest team since 2017. Their promotion to Counsel positions is well-deserved recognition of their contributions in the successful development of the Bucharest office over the last six years and reinforces our ongoing commitment and belief in the strength and dynamism of the Romanian legal market", declared Bryan W. Jardine, Managing Partner Wolf Theiss Bucharest office.
"I am very happy and warmly congratulate Andreea and George, to whom I am deeply grateful for their enthusiasm, brilliant ideas, dedication and hard-work. They are both extraordinarily passionate about their projects and engaged in consolidating our team's successes. The well-deserved promotion as Counsel of both Andreea and George is a recognition of their outstanding professional contribution to the development of both our Corporate M&A and Employment practices in the Romanian market", added Ileana Glodeanu, Partner and Head of the Corporate / M&A practice at the Wolf Theiss Bucharest office.