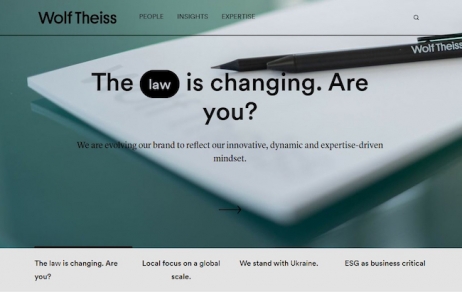 Wolf Theiss conducted a rebranding project to reflect the dynamic and expert thinking of the international law firm. Representing international clients in the complex and rapidly developing markets of the EEC & EEA region, the new design aims to reflect the strengths of Wolf Theiss.
"Wolf Theiss is a strong regional and international law firm, where our talented lawyers solve problems with optimism and direct support, using their creativity and innovative thinking. Wolf Theiss has a strong team of passionate people who support our clients to navigate. with confidence in new challenges ", says Andrea Gritsch, Managing Partner at Wolf Theiss Austria.
Success proves them right: most recently, Wolf Theiss defended his position as "The Lawyer of the Year: Central and Eastern Europe (The Lawyer)".
Therefore, the goal was to create a coherent brand concept to stand out in local markets. Visual language focuses on creating a holistic experience on all international and regional channels, expressing the key values ​​of the brand. The ever-evolving demands of international business law have inspired Wolf Theiss to introduce a modern tone: "clear, bold and open-minded and humane", adds Claus Schneider, Managing Partner at Wolf Theiss Austria
Wolf Theiss appealed to the international design agency Bleed.Studio for the rebranding project: "It was an exciting journey and an inspiring collaboration, which challenged us to build a clear and flexible design that can be applied in all "We believe that the new visual identity perfectly conveys the spirit of the brand," says Marc Damm, Lead Designer at Bleed.Studio.
"With simpler, more colorful and modern graphics, Wolf Theiss' new visual identity will be visible in all relevant media, both online and offline. This strengthens our market position in an ever-changing world. The rebranding project is an initiative developed by Wolf Theiss in all CEE & SEE countries where the company is present, thus building a unified brand throughout the region ", said Bryan Jardine, Managing Partner at Wolf Theiss Romania.