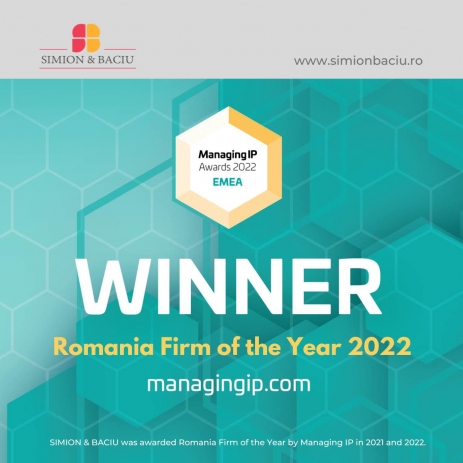 SIMION & BACIU announced that it is the winner of the 2022 Romania Firm of the Year distinction, awarded at the Managing IP EMEA Awards ceremony organized on June 15, in London. This marks the second consecutive year when the firm receives this much-coveted award dedicated to the international intellectual property community. The highly reputable awards programme run by Managing IP is considered to be the premier annual awards event for firms and professionals active in the intellectual property field worldwide.
Now in their 17th year, the awards are presented to firms, individuals and companies "behind the most innovative and challenging IP work of the past year, as well as those driving the international IP market" and cover over 50 jurisdictions, worldwide. Being the winner for Romania of this highly respected programme is yet another powerful independent acknowledgement of our firm's strong position among the leading domestic law firms active in the intellectual property field and our team's all-encompassing expertise across the full spectrum of the intellectual property law practice area.
This year, the firm competed with four other domestic and international law firms.
Present at the 2022 Managing IP EMEA Awards ceremony, Ana-Maria Baciu, Managing Partner stated: "It gives us great pride to receive this distinction for the second time in a raw. It is rewarding to see that the value we add to our clients' IP projects is independently acknowledged, thus making an impact in the IP community. Also, we are very motivated by the fact that the dedication and enthusiasm of our highly experienced team receives such an outstanding commend. We thank our clients for their continuous trust and support and our team members for their extraordinary commitment. This award represents a source of inspiration for all of us to continue to grow and to continue to exceed our and everyone else's expectations".