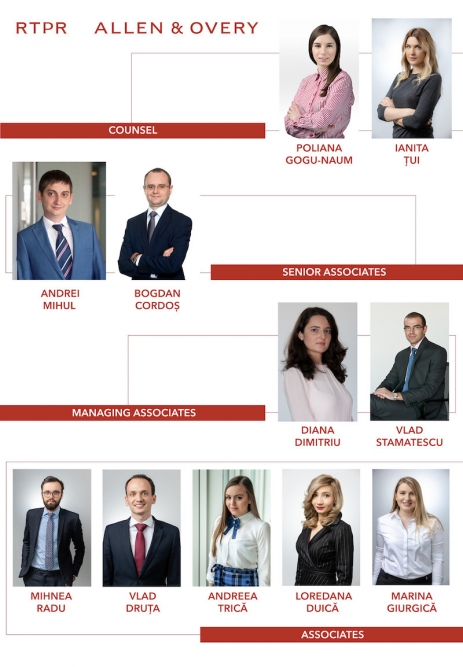 RTPR Allen & Overy announces who are the lawyers promoted as a result of their personal contribution to the success of the firm in 2018, the degree of involvement in projects, and particularly thanks to the appreciation gained from the clients.Thus,Ianita Țui and Poliana Gogu-Naum are promoted as Counsel. Andrei Mihul and Bogdan Cordos become Senior Associates, while Diana Dimitriu and Vlad Stamatescu advance to the position of Managing Associates.Lawyers Vlad Druta, Mihnea Radu, Loredana Duică, Andreea Trică and Marina Giurgică are also named Associates.
"These promotions reflect RTPR's commitment to attract, maintain and invest in the best lawyers. We are very proud of our colleagues and the way they evolved and we thank them for their quality work and dedication. Only with highly talented lawyers and with a profound knowledge of our clients' industries we manage to carry out complex projects involving advanced legal work. In addition to the official recognition that is reflected in the title, the appreciation of our clients is the biggest reward", said Costin Tărăcilă, Managing Partner RTPR Allen & Overy.
Ianita Țui has a rich experience in real estate projects covering various segments such as office space, residential, commercial, infrastructure and logistics projects, as well as in other practice areas such as public procurement, concessions, public-private partnership, corporate and M&A, municipal loans and financing.Recently, Ianita assisted ING Business Shared Service (IBSS), the IT division in Romania of the ING Group, on the lease of an office space with an area of 13,000 sqm for the new headquarters of the company.

Poliana Gogu-Naum has a vast banking and finance expertise, providing legal advice to local and international banks and companies on syndicated and bilateral finance transactions. Among the large-scale projects in which she was recently involved, we mention the consultancy offered to a syndicate of banks regarding a credit facility , in amount of approx. USD 68 million granted to the aluminum producer Alro. Poliana is recommended by the international legal directories Legal 500 and IFLR1000 in the finance practice area.

Andrei Mihul specialises in M&A transactions and competition law. Recently, Andrei has advised Prime Kapital on the acquisition of a shopping center in western Romania, as well as on the sale of a real estate portfolio consisting of nine retail centres with a total area of ​​67,959 sqm to MAS Real Estate for a price of EUR 112.97 million.

Bogdan Cordoș specialises in transactions in the energy sector and is recognised as a "Next Generation Lawyer" in the field of energy and natural resources by the prestigious international legal directory Legal 500. He also has experience in various areas of practice, such as corporate, banking & finance, regulatory and real estate. Bogdan coordinated the team of lawyers who assisted Electrica and its distribution subsidiaries regarding one of the largest reorganisation processes in Romania.

Diana Dimitriu has extensive experience in labour law projects on various matters such as complex transfers of employees, collective and individual dismissals, staff restructuring, negotiations, as well as commercial transactions, mergers and acquisitions, corporate law. Diana has been recently assisting Electrica on various employment matters.

Vlad Stamatescu provides legal advice to local and international companies on various commercial transactions including mergers and acquisitions, day-to-day corporate advice, incorporation, restructuring and reorganisation of companies. Recent projects include consultancy offered to DS Smith Plc regarding the acquisition of EcoPack and EcoPaper, two major producers of packaging and paper products in Romania.

Vlad Druta, Mihnea Radu, Loredana Duică, Andreea Tricăand Marina Giurgică provide legal advice to local and international companies from various sectors of activity in transactions in various practice areas, including mergers and acquisitions, financing, capital markets, competition law.