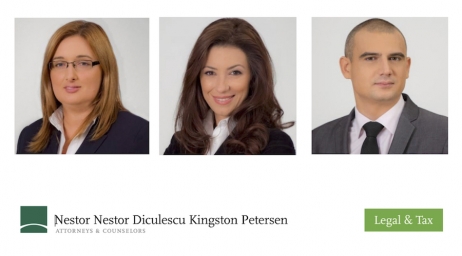 Corina Dumitru, Lavinia Ionita Rasmussen and Răzvan Vlad
Nestor Nestor Diculescu Kingston Petersen (NNDKP) announced today the promotion of three lawyers to partnership.
Corina Dumitru and Răzvan Vlad were promoted to partner within the Corporate/M&A Practice, and Lavinia Ioniță Rasmussen was promoted to partner within the Real Estate Practice of the firm.
Corina Dumitru joined NNDKP in 2007. She has more than 15 years of professional experience in the legal area, her expertise covering areas such as mergers and acquisitions, corporate law and commercial transactions as well as banking and finance. Corina has assisted a large number of investors, national and multinational companies, banks and institutions in large complex transactions carried out in Romania. She is also specialized in banking and financing law.
Lavinia Ionita Rasmussen joined NNDKP team in 2005. With a professional experience of over 12 years in the legal area, Lavinia consolidates its position as a leader in the Romanian legal services community through her promotion as a Partner with the Real Estate practice of the firm. Her expertise covers all the specific matters related to real estate industry. She has successfully negotiated and closed complex projects and business structures, provided assistance in transaction arrangements, development issues or constructions and urbanism and applied integrated exit solutions. Lavinia is also specialized in FIDIC contracts.
Răzvan Vlad joined NNDKP team in 2013. He has over 14 years of experience in providing legal assistance. His area of expertise include corporate law, mergers and acquisitions as well as specific regulatory and performance aspects related to FIDIC contracts in major infrastructure projects. Răzvan has also assisted clients in complex projects in the automotive and heavy industry.
In addition to the promotions at partnership level, NNDKP promoted four lawyers to Managing Associate position: Iurie Cojocaru (Environment and Data Protection Practices), Ioana Grigoriu (Real Estate Practice), Mădălina Pancă and Alina Vizitiu (Corporate/M&A Practice);
three lawyers to Senior Associate position: Irina Albu (Environment and Data Protection Practices), Alina Dumitru (Intellectual Property Department) and Raluca Maier (Cluj Office).
Starting with March 1, 2018, the NNDKP team will be comprised of 33 partners (28 lawyers and 5 tax advisors), over 130 lawyers and advisors and over 80 employees in the supporting departments.