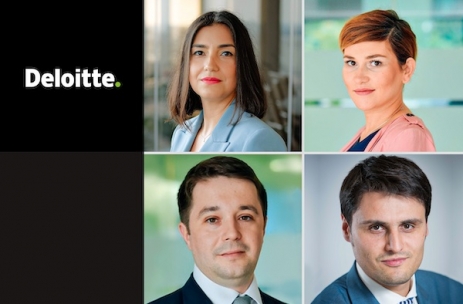 Deloitte Romania strengthens its management team by promoting four employees to the position of directors in the risk advisory, tax, financial advisory and audit and assurance practices, following their contribution and commitment to serving clients and to developing their teams. Andrada Tanase has been promoted to Director in the Risk Advisory practice, Monica Tariuc has been named a Global Employer Services Director within the Tax practice, Vlad Balan has been appointed Financial Advisory Director, and Ion Efros,Audit and Assurance Director, effective September 1, 2021.
"I am proud of the colleagues who are joining the leadership of the firm after having contributed distinctively to creating an impact that matters for our clients and our people. Andrada, Monica, Vlad and Ion are all outstanding professionals with a passion for serving clients and developing other talented professionals and I am convinced they will contribute to Deloitte Romania accelerating its growth and further strengthening its reputation and connectivity in the Romanian business community," said Alexandru Reff, Country Managing Partner, Deloitte Romania and Moldova.
Andrada Tanase, Risk Advisory Director, joined Deloitte in 2015 and has ten years of extensive experience in Basel III regulations, supervisory practices, risk management and financial reporting in the financial sector. She has coordinated projects on various risk and regulatory topics such as Internal Capital Adequacy Assessment Process (ICAAP), Internal Liquidity Adequacy Assessment Process (ILAAP), business plan, licensing and authorizations, recovery and resolution. Andrada has also been a trainer for the Romanian and Moldavian Banking Institute and several central banks across Europe. She is also a member of the Association of Chartered Certified Accounts (ACCA), the Body of Expert Accountants and Licensed Accountants in Romania (CECCAR) and holds the Financial Risk Manager (FRM) certification granted by Global Association of Risk Professionals (GARP).
Monica Tariuc, Global Employer Services Director, joined Deloitte in 2008 as an intern and since then has become a seasoned expert in global employer services. She is recognized by clients for her technical knowledge on mobility matters, for her ability to coordinate large global and regional accounts, for her genuine interest for improving daily processes and for her out-of-the-box thinking and innovative solutions. She focuses on raising awareness and assisting companies in rethinking their mobility policies so that the concept of remote working - work from home, workcation, working from everywhere or other - is properly understood and handled by both businesses and individuals. She was also involved in the design and the implementation of Deloitte proprietary technology tools to support tracking and compliance reporting for mobile employees cross-countries.
Vlad Balan, Financial Advisory Director, joined Deloitte as an intern in the audit department during his final year of university studies in 2008.Two years later, he transitioned to Financial Advisory and since then has worked on numerous projects, most of them consisting of due diligence and transaction services. The companies he has successfully served over the last 11 years are active in various industries, but he mainly focuses on real estate and energy and resources. Vlad has worked with leading companies in their sectors and in transactions that are considered landmarks for any professional in this field and for the Romanian mergers and acquisitions landscape, such as the sale of Romanian subsidiaries owned by CEZ Group to the Macquarie Infrastructure and Real Assets. He is a member of the Association of Chartered Certified Accounts (ACCA) and has graduated from the Faculty of Automatic Control and Computer Science, University Politehnica of Bucharest.