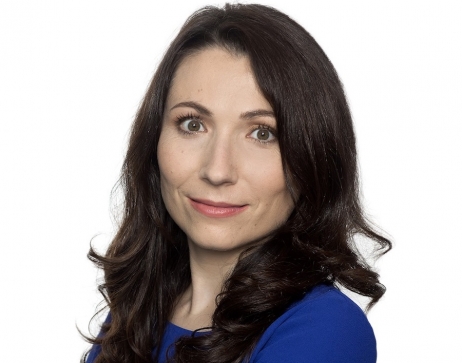 Alina Stăvaru, Partner RTPR Allen & Overy
After 10 years of business activity Alina Stăvaru receives official recognition through the promotion to partner position at RTPR Allen & Overy, joining th eteam of five other partners: Costin Tărăcilă, Victor Pădurari, Alexandru Retevoescu, Mihai Ristici and Valentin Berea.
"It's a first for us to make such a promotion from inside. Alina is one of the most talented lawyers in the market, and her important contribution to the development of M & A practices and Labor Law, recognition in the local and international market have convinced us that it deserves this promotion. I congratulate Alina for this achievement! Yes, you can become a Partner in RTPR and yes, it depends directly on individual competence, customer recognition and contribution to the company's success, " said Costin Tărăcilă, Managing Partner RTPR Allen & Overy.
"It is a fulfilled dream that makes me even more determined and ambitious. For me business law is not just a job, it is a real passion and I feel lucky to have the chance to practice it with the best professionals in the country and even from abroad, from which I learn every day. I am delighted to have contributed to the success of M & A practice as well as to the development of labor law practices in which we have undergone complex restructurings (including top management, stock option plans, company transfers etc.). It's also a busy dream with proven results every year and increasingly complex challenges. Here it is! I thank my colleagues for their confidence, to get as many achievements as possible, "said Alina Stăvaru, the new Partner RTPR Allen & Overy.
Alina Stăvaru graduated from the Faculty of Law of the University of Bucharest in 2004. For four years she worked for a British law firm, and in 2009 she got hired at RTPR Allen & Overy, going through all the hierarchical levels. Over the past five years, she has served as counsel. Since 2017, she is Secretary of South Eastern Europe's Private Equity and Venture Capital Association.
Alina has been actively involved in over 100 projects over the last 5 years, out of which 31 M & A transactions signed and finalized in Romania (without taking into account multijurisdictional transactions) and 22 labor law projects. The most successful M & A projects are: the acquisition of A & D Pharma by Penta Investments (2018 transaction on the merger and acquisition market), the purchase of Regina Maria by Mid Europa Partners from Advent (2015), the acquisition by Allianz Capital Partners of 30% of E.ON Distribution Romania (2016), Facebook acquisition of LiveRail Group (2014) and Profi sale to Enterprise Investors (2009) and later to Mid Europa Partners (2016). Also, a large-scale project on the area of ​​Employment - a department that it has taken over and develops since 2016 - is Electrica, assisted by RTPR Allen & Overy during one of the most complex restructuring projects in the country.