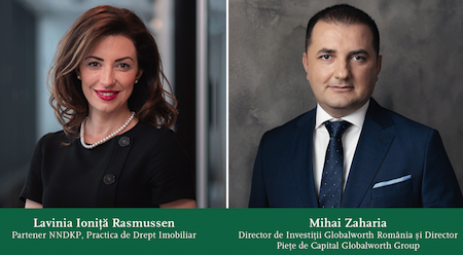 Nestor Nestor Diculescu Kingston Petersen (NNDKP) assisted Globalworth in connection with the acquisition of two industrial projects, IPW Arad (Industrial Park West Arad) and IPW Oradea (Industrial Park West Oradea). The portfolio of Globalworth Industrial, the industrial and logistics sub-brand of the group, thus expands in two other cities in Romania with a strong economic development.
The value of the IPW Arad and IPW Oradea transactions is approximately 18 million euros, and to the Globalworth Industrial portfolio is added a total area of ​​27,000 square meters of industrial space, developed to high quality standards and with an occupancy rate of 100%. With the takeover of the two projects, Globalworth Industrial reaches a total portfolio of 260,400 square meters, with a total occupancy rate of 95% at present.
NNKPD was involved in all stages of the project and provided assistance both in the preliminary phases of project analysis and in the preparation and negotiation of related documents.
"The IPW Arad and IPW Oradea transactions represent an important step for the Globalworth portfolio, because now we are present in 6 big cities in Romania, which supports our activity in the west of the country, where we were already active through the Timișoara Industrial Park project. The addition of the two well-known global German companies in the automotive industry, iwis and Huf Romania, in our community makes us happy and motivates us to continue the Globalworth Industrial activity at the highest standards. All these processes related to recent transactions have been easier due to the involvement of the NNDKP team, the partner who has assisted us in many projects over time ", said Mihai Zaharia, Globalworth Romania Investment Director and Globalworth Group Capital Markets Director.
The NNDKP team involved in this transaction was coordinated by Lavinia Ioniță-Rasmussen, Partner in the Real Estate practice of NNDKP, who had along with Flavia Petcu and Roxana Iordache, lawyers in the same practice.
"Plans to expand existing investments or attract new ones always take into account elements of logistics infrastructure, necessary for the rapid operationalization of any business. Globalworth makes the decisions of companies interested in logistics spaces to be taken much faster, allowing them to focus essential resources in the development of their core business. We thank the Globalworth team for the trust they give us through our involvement in projects that develop communities - economic and social ", said Lavinia Ioniță-Rasmussen, NNDKP Partner.