Events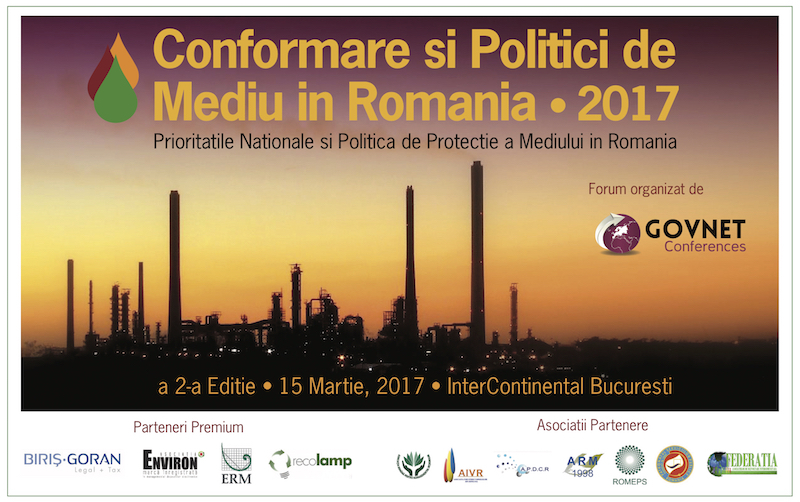 Environmental Compliance Policies in Romania 2017
March 15, 2017, HOTEL INTERCONTINENTAL, BUCHAREST
In recent years have seen a significant increase in the level of mandatory rules for environmental compliance. We take a local approach to the increasingly challenging aspects related to rules, regulations, standards and other requirements of environmental law that impact private companies and public institutions in the application of the law.




The Romanian Environmental Compliance Policies Conference 2017 is aimed to be a source of updates and practical know-how on environmental legislation from renowned experts and authorities, focused on key challenges and solutions to compliance aspects in this country.

Romanian Environmental Compliance Policies Conference 2017 - March 15, - Hotel InterContinental Bucharest



Target group:

Local and International experts from legal departments, compliance managers, top level executives in a number of industrial sectors, oil&gas, cement, manufacturing as well as Romanian authorities supervising and regulating the field.



Language:

English and Romanian (with simultaneous translation provided)

Registration: Conference participation fee is

98 € + VAT/ person.
The fee includes the participation in the conference sessions, coffee breaks and lunch, as well as the conference proceedings documents.

Registration conditions: The program and the speakers are subject to change. Should the conference be cancelled due to force majeure, unavailability of the conference venue, speakers being prevented or for other good cause, the organizer reserves the right to cancel the conference. In case of cancellation all participants will be informed promptly. In this case, all registration fees will be reimbursed.



Payment:

Payment can be made by bank transfer prior to the event. Please take into consideration the limited seats availability, therefore we recommend that registrations are made prior to the week of the event.



Hotel:

Exclusively for you we have got a limited number of rooms available at special rates in the InterContinental Hotel Bucharest. In order to accommodate you together with the other participants, please reserve your room by no later than one week before arrival.


Data protection and sharing of contact details

The Conference Organizer will collect and store your personal data for the preparation and execution of the conference as well as to inform you about future projects related to your sector and line of work. Your contact data will only be passed on to partners directly involved in the conference organization process as partners for follow-up purposes.

If you have any questions about our privacy policy and the processing of your e-mail and related personal data, do not hesitate to write us at sales@govnet.ro
Venue
Hotel Intercontinental
BUCHAREST
Phone: