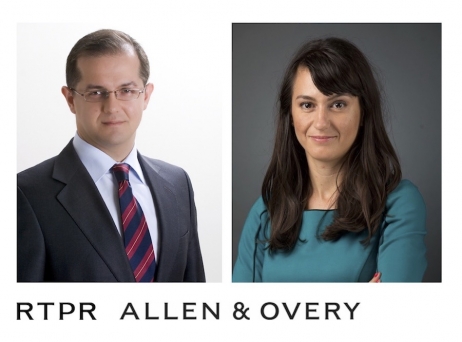 Victor Padurari and Andreea Burtoiu, RTPR Allen & Overy
RTPR Allen & Overy has advised Barclays Bank PLC as arranger for Alpha Bank Romania on the first mortgage bonds issue programme in Romania with a value of EUR 1 billion.
The RTPR Allen & Overy team was led by Andreea Burtoiu (Counsel) and Victor Padurari (Partner). The team involved in this project further included Andreea Chiriac, Lia Ilie and Ioana Ilie, lawyers specialised in finance and capital markets deals.
Andreea Burtoiu commented: "We are privileged to be part of the teams that finalised this pioneering transaction on the Romanian market. Mortgage bonds are a feasible financing solution for the banks in Romania and until now we had a modern but untested legal basis, and a well-established international practice of bond issues. It was a major professional challenge and we are lookingforwardto new challenges. I would like to congratulate all parties involved in this deal and to thank all colleagues in the project team."
Victor Padurari also commented: "We are happy to have contributed to the successful closing of the launch of this mortgage bonds programme which represents a new chapter for the financing options available on the Romanian capital market. The satisfaction felt when such a project is closed is even bigger when the clients are happy and we know we did our best to see it successfully done. It was an extremely complex and challenging transactions, but as they say 'there's a first time for everything'. With this mandate RTPR Allen & Overy continues to consolidate the tier 1 law firm position in this area."