BUDUSAN SI ASOCIATII SPARL
Address:
43 Calea Dorobantilor, 1st Floor, Ap. 2, 1st District, Bucharest, Romania
Tel:
+40 21 230 50 88; +40 21 316 83 94
E-mail:
office@budusan.ro
Web:
www.budusan.ro
Most senior representative:
Ovidiu Budusan, Founding Partner
No. of local partners:
4
No. of lawyers:
7
Year founded in Romania:
2020
Offices in Romania:
Bucharest
Partners and heads of practice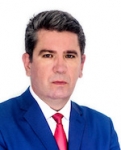 Ovidiu Budusan, Senior Partner
Ovidiu Budusan is a founding partner of Budusan & Asociatii, and a highly-experienced litigator. The professional experience acquired as prosecutor-in-chief of the Division for the Prosecution of Corruption and Organized Crime (later reorganized into PNA/DNA and DIICOT) within the Prosecutor's Office of the Supreme Court of Justice (now PICCJ), as well as his subsequent prolific practice as attorney-at-law, recommend Ovidiu as one of the leading criminal defence attorneys in Romania.
Ovidiu manages defence in complex cases dealing with business crime charges, in industries such as banking and finances, energy, oil & gas, IT, media, capital markets, pharmaceuticals, food industry, infrastructure, as well as charges of tax evasion and corruption offences.
Ovidiu also has a wealth of experience in the field of human rights, especially in the context of criminal and ancillary procedures, and has a notable track record of cases where individuals, companies or professional associations challenged the unjustified interferences of state authority in the exercise of fundamental rights, both before national courts and the European Court of Human Rights.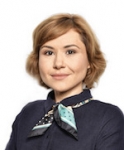 Liana Iacob, Partner
Liana Iacob is a partner in Budusan & Asociatii since 2014. Her fields of expertise include fraud against the financial interests of the European Union, public procurement fraud, corruption and professional offences, tax evasion, financial and insurance fraud, embezzlement, corporate fraud and intellectual property crime.
Liana has managed complex cases of fraud in the financial and banking industry; she has provided legal consultancy and assistance to important corporate clients in the IT sector, in energy, real-estate, the food industry and financial services. She also practiced commercial and contract law, IPR, oil & gas, court litigations and represented clients in ECHR procedures.
In the period 2017-2020, in particular, Liana managed the criminal court case concerning the bankruptcy of Romanian top insurance company, dealing with economic and professional offences, as well as estimated damages in the range of EUR 200 million. As off this year, Liana manages, as first chair, a court case of bank fraud, with a loss estimated at approx. Eur 8 million, and as second chair to Ovidiu Budusan, a complex court case of EU funds misappropriation, with an estimated loss of approx. EUR 1 million. As part of a team of lawyers specialized in complementary fields of law, she advises global companies in various industries, in the course of internal and/or official audits, on matters such as employee misconduct, internal fraud, and tax evasion.
She also acts as second chair to Ovidiu Budusan in several major firm cases.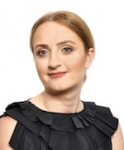 Florentina Frumusanu, Partner
Florentina Frumusanu is a partner with Budusan & Associates. She specializes in cases of tax evasion, accounting offences, capital market crimes, offences against the customs regime and intellectual property law, off shore transactions, corruption offences, corporate fraud and fraud against the financial interests of the European Union.
Florentina gathered experience as an in-house lawyer in a multinational oil group, where she advised regarding corporate, capital markets, intellectual property and environmental law, on matters concerning commercial contracts and negotiations, environmental conformity, capital market transactions, public-private partnerships, projects and public acquisition procedures for infrastructure projects.
Over the last year, Florentina coordinated the legal assistance and representation of a food and beverages company, indicted in a complex case of tax evasion with an estimated damage of approx. EUR 3 million, as well as money laundering of an amount of approx. EUR 10 million, allegedly intended for corrupt practices (in connection with high government officials, namely, ministers). As second chair in many of the firm's major tax evasion and money laundering cases, Florentina coordinated the defence efforts and developed the trial strategies on the technical issues particular to this type of offences (e.g., forensic reports, counter-evidence etc.).
At the same time, Florentina acted as first chair in a high-profile pre-trial investigation into illegal export of art, as well as in several other cases concerning illegal art trade and money laundering, a typology of crime relatively new in the practice of the Romanian judicial bodies.
Finally, she coordinated the legal services provided by our firm in matters derived from criminal cases in our portfolio, including administrative (e.g., fiscal) matters, and civil procedures separated from the criminal trials, among which an arbitration procedure pending before the Arbitration Court by the Romanian Chamber of Commerce and Industry, concerning claims of approx. Eur 3 million, made in connection with a tax evasion conviction.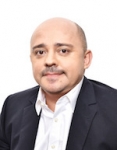 George Toniuc, Partner
George Toniuc joined Budusan & Associates as partner in 2017, after years of fruitful collaboration, and is an experienced, skilled litigator, with a keen understanding of the investigative procedures and court process, and with a balanced, client-oriented approach.
With nearly 20 years of experience, George assisted and represented both industry, and individual clients in complex criminal matters, handled by specialized prosecutorial units. Previously, George also practiced corporate and industry law, in fields such as international transactions, trading, oil and gas and aviation, thus gaining useful insight into other practice areas relevant for while collar crime matters.
Over the last 12 months, George focused mainly on corruption cases, some of which are still pending investigation, and acted as first chair in the court case concerning charges of corruption and money laundering brought against high profile regional officials and private individuals, in connection to the restitution of certain pieces of property (+ 5000 hectares of forestry land) previously confiscated by the communist regime, with the value of the damage of approx. EUR 21,7 million. The matter was finally in July 2020 by the High Court of Cassation and Justice, when our client was acquitted by final court decision, while the other 11 defendants have been convicted. He also acts as second chair to Ovidiu Budusan in several major firm cases.
In addition, in 2020, George assisted a global provider of education services in a complex employee fraud case resulting in an estimated loss in excess of EUR 1.5 million, as well as food and beverages companies facing charges of tax evasion with an estimated loss in excess of EUR 3 million.
List of the most representative projects
White Collar Crime
Assisting and representing worldwide provider of education services in a major case of internal & external fraud directed against the corporate estate.
Assisting global video game industry player in internal investigation re: potential employee misconduct and fraud.
Assisting global pharmaceutical group in various official audit procedures.
Assisting major DIY retailer facing investigation for alleged corrupt practices.
Assistance and representation of transnational railway freight group (and owners) facing tax evasion and corruption charges.
Assistance and representation of several companies, part of a major local group active in various industries (beverage, agriculture, energy etc.).
Specialist lawyers: Ovidiu Budusan, Florentina Frumusanu, Liana Iacob, George Toniuc.