DOBRINESCU DOBREV SCA
Address:
25 Marasesti Blvd, Bohemia Apartments, Building B, Entrance 2, 4th Floor, Ap. 48, 4th District, Bucharest, Romania
Tel:
+40 723 000 497
E-mail:
office@dobrinescudobrev.ro
Web:
www.dobrinescudobrev.ro
Most senior representative:
Luisiana Dobrinescu, Partner
No. of local partners:
4
No. of lawyers:
12
Offices in Romania:
Bucharest
Representative clients include:
Libra Bank, AD Auto Total, EU Trucking Services, City Point, Astaldi S.p.A., Otokar Turkyie, SMART ID, PRIMA Development, Secom, Macromex, Romgermed.
Partners and heads of practice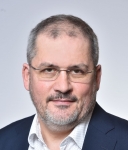 Dumitru Dobrev, Partner, Head of the Civil Disputes Resolution Department
Practice Areas: Civil Disputes, Environment Law and City Planning
Dumitru has significant experience in private litigation, administrative trials, national and international arbitrage, practicing: property restitution litigation, environment law and city planning, FIDIC regulation, as well as the insolvency matters (as an authorized trustee in bankruptcy since 2006). He is also specialized in intellectual and industrial property, being IP counselor since 2006.
Dumitru has obtained a PhD degree from The Institute "Andrei Radulescu" of the Romanian Accademy, and a LLM degree from the Franco‑Romanian Institute of International Business Law "Nicolae Titulescu ‑ Henri Capitant", Universitatea Bucuresti ‑ Universite Paris I Pantheon Sorbonne, 1999‑2000.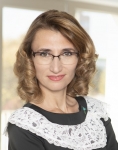 Luisiana Dobrinescu, Managing Partner, Coordinator of the entire tax practice
Practice Areas: VAT, Fiscal Procedure, Tax Consultancy
Luisiana has a double specialization, being a graduate of both the Law School (Bucharest University) and of the Accounting and Management School (Titu Maiorescu University). She also graduated the Master in Tax Law organized by the Bucharest University and obtained a PhD degree from Law faculty, West University, on VAT issues.
With more than 20 years of experience in tax law, Luisiana is specialized in tax consultancy, assistance throughout the fiscal inspection, assistance in contesting the tax assessments and legal representation in court. Luisiana is highly specialized in value added tax (VAT) and fiscal procedure.
Andrada Ples, Tax Partner
Practice Areas: Corporate Income Tax and International Taxation
Andrada is a certified tax consultant, with more than 15 years of expertise in tax advisory services. She has coordinated complex projects, especially in direct taxation field, covering both national and international taxation matters. Her main area of expertise refers to M&A deals as well as other business restructuring projects such as transfer of business, transfer of shares, assessment of permanent establishment risk.
Before joining Dobrinescu Dobrev, Andrada worked in a Big4 Company, being specialized in M&A projects and international taxation. Afterwards, she worked for tax consultancy companies affiliated to local law firms, covering different areas of taxation, and assisting clients with day‑to‑day tailored fiscal advice.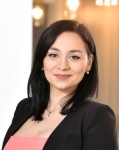 Anamaria Chiru, Tax Partner
Practice Areas: M&A deals and administrative appeals
Anamaria has a professional background in tax advisory since 2012 and she is a member of the Chamber of Tax Advisors since 2018. Prior to joining the team at Dobrinescu Dobrev in 2020, she gained almost 4 years of experience in direct corporate taxes in a Big Four advisory firm, where she carried out various projects, from tax audits, to complex restructuring projects and to tax advisory during audits from the tax authorities.
She has a strong track record in transactional‑related tax advice on M&A deals, including transfers of business and exchanges of shares of cross‑border nature, capital market transactions, real estate transactions but also assistance during tax audits and administrative appeals.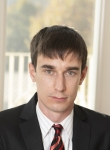 Iacob Buga, Tax Litigation Manager
Practice Areas: Tax Litigation
Iacob is a member of the Bucharest Bar since 2015 and worked for two Big Four affiliated law firms during the last 5 years. He was involved over time in complex litigation and advisory projects generated by the activities of important local as well as transnational companies from various economic sectors (e.g. media, energy, financial services, food, tobacco, automotive, pharmaceutical, IT, telecommunications, waste management etc.) and raising matters from different legal areas (e.g. tax law, customs law, administrative law, environment law, EU law, civil law, consumers protection, data protection etc.). During those projects, he ensured the representation of the clients during some administrative and judicial procedures (including the representation in front of the EU Court of Justice during the preliminary ruling procedures).
List of the most representative projects
Real Estate
Legal advice for a major local digital bank on matters of real estate, urban and environment law, and general administrative law. The assistance consisted in providing consultancy on the urbanistic impact which the cancellation of several zonal urban plans might have upon some real estate projects financed by the bank. Specialist lawyer: Dumitru Dobrev.
Represented a homeowners' association against the real estate developer of the Greenfield Baneasa Residence neighborhood. During the litigation, Dobrinescu Dobrev found a mutual benefit solution which favored the closure of a transaction between the parties. Specialist lawyer: Dumitru Dobrev.
Successfully represented a group of landowners in Mogosoaia against the City Hall and the Local Council of Mogooaia, for annulling and suspending several expropriation decisions issued by these authorities with the purpose of building the Zero Sector real estate project of 1200 hectares. It was a complex litigation which involved matters of administrative law, real estate, urban and environment law, as well as constitutional law. The Bucharest Court of Appeal definitively decided to suspend these decisions, which threatened the property rights of multiple landlords from Mogooaia by initiating an unjustified, and abusive expropriation against them. Specialist lawyers: Dumitru Dobrev, Oana Toader.
Drafting due diligence report, revising draft sale-purchase agreement as well as providing legal and tax advice and representation throughout negotiations and closing of the deal relating to the purchase of real estate valuated at €1.4 million located in the North area of Bucharest. Specialist lawyers: Luisiana Dobrinescu, Sebastian Giupana.
Litigation and Dispute Resolution
Successfully represented Cristian Tudor Popescu, a renowned journalist, against several sanctions disposed by the National Council for Combating Discrimination. In consideration to the fact that journalists' freedom of expression is essential to the rule of law, the court decided to cancel the sanctions. Specialist lawyers: Dumitru Dobrev, Oana Toader.
Representing a renowned former judge against the Superior Council of Magistracy ("CSM"), for requesting in court the cancellation of the CSM decision which disposed his exclusion from the judge profession. Specialist lawyers: Dumitru Dobrev, Oana Toader.
Representing Mihai Marcu, a renowned Romanian sculptor in an intellectual property court dispute against the City Hall of Targoviste. The City Hall altered a public landmark monument placed in the center of the city and which was sculpted by the artist, therefore the sculpture was devalued aesthetically, which had a great impact in the local press. Specialist lawyer: Dumitru Dobrev.
Tax
Legal and tax assistance for ASTALDI S.p.A on the VAT treatment for incorporation in the matter of an arbitration under the ICC Arbitration Rules. Specialist lawyers: Luisiana Dobrinescu, Andrada Ples.
Tax analysis in respect of the recharges of costs performed by Otokar Romania to Otokar Turkey regarding the repair and maintenance services over the busses. Specialist lawyers: Luisiana Dobrinescu, Anca Nica.
Tax assistance for sale of shares of Smart ID Dynamics, leading independent Romanian provider of automation services to Sarmis Capital, including taxation of retention bonuses and sale of shares. Advising Smart ID Dynamics in the acquisition of Spectrum, a Brasov-based supplier of integrated software solutions with over 20 years' experience in the development of software, hardware, and post-implementation support solutions. Specialist lawyers: Luisiana Dobrinescu, Anca Nica, Anamaria Chiru.
Tax and legal memorandum analyzing the fiscal implications of selling products on a major international marketplace platform. The client is Secom. Specialist lawyers: Luisiana Dobrinescu, Andrada Ples.
Advised iSoftBet together with Firon Bar-Nir, a prominent eGaming content provider and third-party game aggregator, on its acquisition by one of the largest gaming players in the world in a transaction worth €160 million. The closing of the transaction took place in July 2022 and covered Cyprus, Czech Republic, Malta, Romania and UK jurisdictions. Specialist lawyers: Luisiana Dobrinescu, Anca Nica, Andrada Ples.
Representing a top furniture manufacturer throughout administrative and judicial proceedings in a case of fiscal reclassification of cross-border per diems amounting to RON 3.8 million, whereby a final court ruling was rendered in favour of the client. Specialist lawyers: Luisiana Dobrinescu, Alina-Adriana Arseni.
Representing EU Trucking Services, an international hauler, throughout administrative and court proceedings and obtaining a final ruling suspending the enforcement of a tax assessment decision amounting to RON 50.6 million, consisting of social security contributions and corporate tax. Specialist lawyer: Luisiana Dobrinescu.