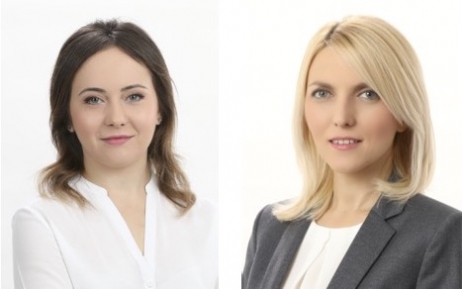 Madalina Gatu and Simona Rujan, Voicu & Filipescu Tax Advisers
As a result of the individual performances obtained in the last years, Voicu & Filipescu Tax Advisers announces internal promotions to the positions of Tax & Accounting Partner, Accounting Manager and Senior Tax Consultant.
Following the professional evaluations carried out at the end of 2021, Voicu & Filipescu Tax Advisers decided to promote Madalina Gatu, tax consultant and accounting expert with 18 years of experience, to the position of Tax & Accounting Partner. As a result of this promotion, Madalina Gatu will coordinate complex projects with both fiscal and accounting components and will supervise the financial-accounting assistance provided within the company.
At the same time, Simona Rujan, tax and accounting consultant with 14 years of experience, was promoted to the position of Accounting Manager, and will coordinate the current accounting practice of the company. Simona Rujan is specialised in advising clients, local and multinational companies, in the field of accounting and business consulting, while also providing assistance in dealing with tax authorities.
Voicu & Filipescu Tax Advisers also decided to promote Alexandra Iorga, a consultant with 6 years of experience, to the position of Senior Tax Consultant. In her new position, Alexandra Iorga will continue her professional development and will be involved both in current tax assistance activities and in projects with a higher level of complexity.
"The new and diverse challenges posed by the increasingly demanding context have led to the expansion and consolidation of tax consultancy and accounting assistance practices. As a natural consequence, the theoretical and practical skills of the consultants involved have diversified, augmented and adapted to new realities, thus increasing the seniority of each person and the team as a whole. In this context, these promotions were self-evident." said Alex Tabacu, founding partner of the company.