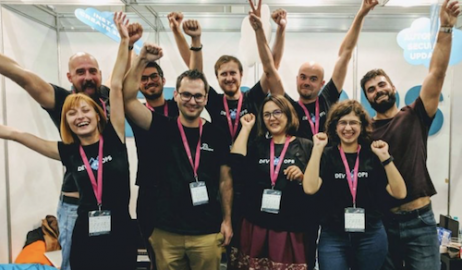 Bunnyshell team in Bucharest
Bunnyshell, a Romanian startup that develops technologies for cloud infrastructure management, chose CEE Attorneys/Boanță, Gîdei și Asociații to assist them in the project where they received a 750,000 euro funding from the Early Game Ventures investment fund and a business angel.
The whole project was carried out over several months, the client appreciating the lawyers' skills, their flexibility and ability to deliver valuable solutions fast, agile legal advice being asine-qua-noncondition when managing hi-tech projects.
"In terms of technology start-ups, Romania has been on the map of numerous investors worldwide for several years, with Bunnyshell being one of the most innovative companies in this sector, having created disruptive technologies with major impact on cloud accessibility for users. We are glad that hey have trusted our specific experience and know-how in this field and, in light of our exposure to similar deals, we are optimistic about the enormous development and evolution potential of these businesses, both in Bucharest and in Romania's large technology hubs," believes Sergiu Gîdei, one of the firm's founders and the project coordinator. Elena Sopotean, an associate lawyer, was also involved in this financing.
Early Game Ventures is a venture capital firm funded mostly through the Competitiveness Operational Program 2014-2020, co-funded by the European Regional Development Fund.
The European Investment Fund (EIF) is part of the European Investment Bank Group and is the leading risk financier for Europe's SMEs through venture capital, collateral, and microfinance instruments. In Romania, the EIF implements financial instruments co-financed through structural and investment funds, such as JEREMIE 2007-2013, SME Initiative, ROP, JOP, NRDP.
The Competitiveness Operational Program 2014-2020 (POC) makes investments to address the needs and challenges raised by the low levels of economic competitiveness, in particular with regards to (a) insufficient support for research, development and innovation and (b) underdeveloped infrastructure for Information and Communication Technology. POC benefits from a € 1.33 billion allocation from the European Regional Development Fund.