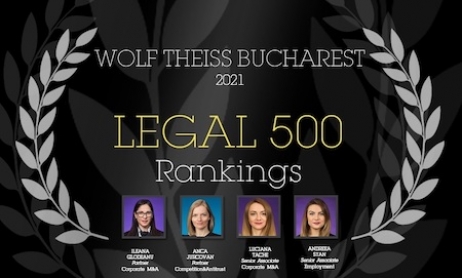 With the 2021 Legal 500 Rankings released, the Bucharest team of Wolf Theiss continues to have newly ranked lawyers on the Corporate M&A, EU & Competition and Employment practices.
Partner Ileana Glodeanu, Head of the Corporate M&A practice was ranked as Leading Individual, Partner Anca Jurcovan, Head of the Competition and Regulatory consolidates the ranking of the local practice group, Senior Associate Luciana Tache from the Corporate M&A team entered the rankings as Rising Star and Senior Associate Andreea Stan from the Employment team continues to be a Rising Star for the second year in a row.
Along with these four lawyers, Legal 500 also nominates in the category Key Lawyers: Claudia Chiper in the practice of Banking & Finance, Bryan Jardine for: Corporate M&A; Dispute Resolution; Energy and Real Estate and Restructuring & Insolvency, Mircea Ciocîrlea and George Ghitu in the Corporate M&A practice, Adelina Iftime-Blăgean for the Employment practice, Ligia-Cecilia Popescu and Andreea Zvâc for the Dispute Resolution practice, Flaviu Nanu for the Energy and Real Estate practice, Ileana Glodeanu for: the Employment practice; Restructuring & Insolvency and TMT and last but not least Luciana Tache for the practice of TMT.
These notable achievements by our Wolf Theiss lawyers are a recognition of their professionalism and high caliber of work, as frequently confirmed also by our clients. In such challenging times, qualities like humanity, compassion, accessibility and adaptability to propose business-oriented solutions are much needed and appreciated by our clients. These nominations also reflect our gender diversity, as also evidenced by our ongoing Regional Women Empowerment project, which aims to spotlight those talented women in our team and their innovative contributions to Wolf Theiss.
"People are a company's best assets. We are very grateful to have so many qualified and diverse colleagues nominated and ranked this year. Within our Firm we encourage an open exchange of ideas and experiences between team members and support team members to develop and grow on their respective career paths." stated Bryan Jardine, Manging Partner of Wolf Theiss Bucharest.