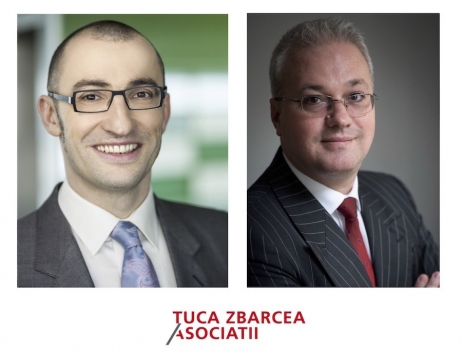 Sorin Vlădescu and Marius Bârlădeanu - Țuca Zbârcea & Asociaţii
Global Technical Group, the market leader in Romania in software development and the provision of technological solutions for the efficiency of buildings and security infrastructures, has finalized the sale of the majority stake in Abris Capital Partners.
The closing of the transaction took place on October 10, the seller benefiting from the legal support of the lawyers from Țuca Zbârcea & Asociaţii.
The transaction was brokered by Trident Capital Investments. In July 2019, the founding shareholders of the companies of the Global Technical Group announced the signing of the contract for the sale of the majority stake in Abris Capital Partners.
Țuca Zbârcea & Asociaţii provided legal assistance services to the founders of Global Technical Group - Fadi Rida and Mihai Stănescu, the coordination of the team being mainly provided by Sorin Vlădescu, Associate Lawyer and Marius Bârlădeanu, Managing Associate of Țuca Zbârcea & Asociaţii.
The team included lawyers with solid experience, such as Nice Jecu, Managing Associate; Andreea Oprișan, Managing Associate; Raluca Sănucean, Managing Associate; Șerban Pâslaru, Associate Lawyer; Bogdan Halcu, Managing Associate and Nicoleta Tudor, Associate. Țuca Zbârcea & Asociaţii was involved throughout the transaction from the moment of the negotiation of the documents related to it and until the evaluation of the fulfillment of the conditions regarding the transfer of the shares and assisting the clients in signing the minutes of finalizing the transaction.
The Trident Capital Investments team was coordinated by Liviu Giugiumică, Managing Partner.
"We are delighted that the sale process, involving the transfer of shares to Abris Capital, has been uneventful and that we can announce the completion of a mandate that offered us the opportunity to collaborate with Fadi Rida and Mihai Stănescu, two visionary entrepreneurs. We also welcome the collaboration with Trident Capital Investments and its founder, Liviu Giugiumică, a top investment banker with over 20 years' experience, "said Sorin Vlădescu, Partner of Țuca Zbârcea & Asociaţii.
Following the co-operation of Abris Capital Partners as a majority shareholder, the Global Technical Group companies will focus on the regional development of their own integrated technical solutions platforms and on extending their application to new sectors, as well as continuing to grow the business by mobilizing the vast technical expertise in design. , installation, maintenance and operations.