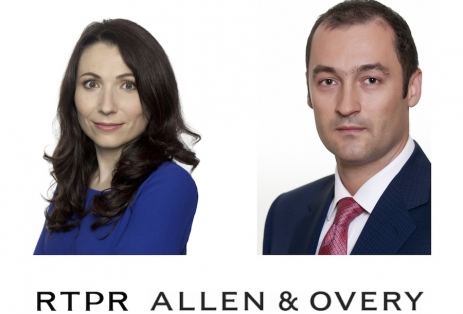 Alina Stăvaru and Costin Tărăcilă RTPR Allen & Overy
RTPR Allen & Overy has advised the shareholders of A&D Pharma on the multijurisdictional sale of the group to the pharmacy network Dr. Max owned by Penta Investments. The transaction which was signed at the end of last year was closed in Amsterdam on April 19, 2018.
The RTPR Allen & Overy team involved in this project was coordinated by Costin Tărăcilă (Managing Partner) assisted by Alina Stăvaru (Counsel). The team further included Roxana Ionescu (Counsel), Andreea Burtoiu (Counsel), Andrei Mihul (Managing Associate), Andreea Chiriac (Associate) Mihnea Radu (Junior Associate) and Lia Ilie (Junior Associate), as well as teams from Allen & Overy's Amsterdam, Prague and Milan offices.
Costin Taracila declared: "We are happy to have successfully closed this deal, once again one of the largest M&A transactions on the market, for sure the largest in the pharma sector in 2017. The satisfaction felt when such a project is closed is even bigger when the clients are happy and we know we did our best to represent their interests as much as possible. We are honoured to have advised A&D Pharma's shareholders in this transaction and we are looking forward to new challenges. I would also like to congratulate and thank all our colleagues who worked on this deal for their involvement, as well as to thank the financial advisers Raluca Niță and Radu Stoicoviciu."
"It was an exceptional project, the peak of a cooperation throughout a decade in which we were together with the A&D Pharma group and we wrote pages of history in multiple local and regional acquisitions, sales, de-listing from the London Stock Exchange, share buyback programs, financing arrangements, litigation proceedings and other special projects. We are honoured and proud that we contributed to the successful closing of this transaction. We would like to thank once again to the shareholders of A&D Pharma for putting their trust in us for this very important transaction in the Romanian pharma market, but also throughout all the important moments of the group's history.", Alina Stăvaru declared.