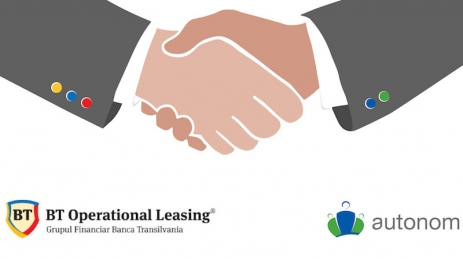 Financial Group Banca Transilvania and Autonom Services announced the conclusion of the sale-purchase agreement for 100% of BT Operational Leasing (BTOL) shares. Following this agreement, Autonom reaches 500 employees, around 5,000 corporate clients and a fleet of over 8,000 vehicles.
On the other hand, Banca Transilvania and Autonom will set up a partnership whereby the bank's clients will have access to an extensive package of mobility services, including operational leasing, fleet management, road assistance, car rental and car rental with driver.
"We are glad we managed to grow our business in a difficult niche, operational leasing. BT Operational Leasing has become one of the main players in the local leasing and fleet management market. We trust that business will grow even better due to Autonom's skills, "said Ömer Tetik, General Manager, Banca Transilvania.
"This transaction shows that sustainable local business can be built. We are honored to have this partnership with the most important Romanian financial group, Banca Transilvania Group. We will continue to work hard to provide innovative and trustworthy services to our local and international clients, "said Dan Ştefan, Managing Partner, Autonom.
The transaction, which is expected to be completed this year after receiving the Competition Council approval, was intermediated by BT Capital Partners, the investment banking division of Banca Transilvania Financial Group and exclusive member of Oaklins in Romania and by Wolf Theiss on the part of BT Investment , respectively by RTPR Allen & Overy on the part of Autonom Services.
The RTPR Allen & Overy team which assisted Autonom Services on this deal was coordinated Costin Tărăcilă (Managing Partner), assisted by Alina Stăvaru (Counsel). The team further included Roxana Ionescu (Counsel), Diana Dimitriu (Associate), Evelin Grigore (Associate), Mona Banu (Associate), Vlad Stamatescu (Associate), Petru Ursache (Associate), Cristi Porojanu (Associate), Cezara Popescu (Junior Associate) and Laura Mavrodin (Junior Associate).
BT Operational Leasing was founded in 2001 and became part of the Transilvania Bank Group in 2006 after BT Investments acquired 51% of the company's share capital. In 2012 and 2013, BT Group increased its participation to BT Operational Leasing to 95% and started the company's sustainable development. The company has seen a 7-fold increase in the fleet over the past 6 years, reaching 20,000 over 3,000 managed cars and a turnover of over 15 million.
Autonom is the leader of the car rental market in Romania. Established in 2006, it has developed the only mobility network in Romania with car rental services, operational leasing, driver transfers, fleet management, within a single national network: 45 agencies in 35 cities in Romania, Hungary and Serbia. The turnover of the Autonom Group was € 27 million in 2017.