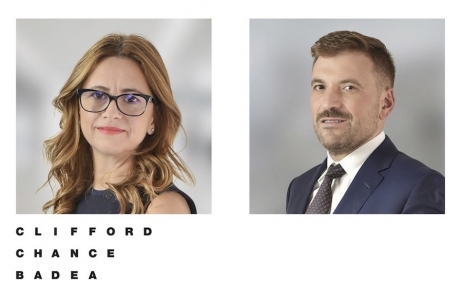 Nadia Badea and Mihai Măcelaru, Clifford Chance Badea
Clifford Chance Badea, the Bucharest office of global law firm Clifford Chance, advised Kingspan Group PLC, the global leader in high-performance insulation and building envelope solutions, throughout negotiations to acquire TeraPlast Group's steel division, namely TeraSteel SA, TeraSteel DOO Serbia and Wetterbest SA.
The team of lawyers is part of the Bucharest M&A practice coordinated by Partner Nadia Badea, and included Mihai Măcelaru (lead counsel), Ecaterina Burlacu (M&A senior associate), Alexandra Voicu and Maria Ciulică (lawyers), and Diana Crângaşu (senior associate specialized in competition law).
"This transaction covering Romanian and Serbian assets adds to the regional M&A portfolio we have successfully grown in response to our clients' interest," said Nadia Badea, Clifford Chance partner and coordinator of the Bucharest M&A practice. "As a global team, we remain committed to supporting our clients in successfully reaching their business goals and addressing their needs at the highest international standards."
Mihai Măcelaru added: "Working on this deal was both challenging and rewarding, as we were all subjected to the limitations of remote working conditions and the pressure of streamlining communications and legal procedures as best as possible. The successful closing of negotiations mirrors the exceptional work, professionalism and dedication of all teams involved."
The conclusion of the transaction is subject to various condition precedent, including competition clearance.