Events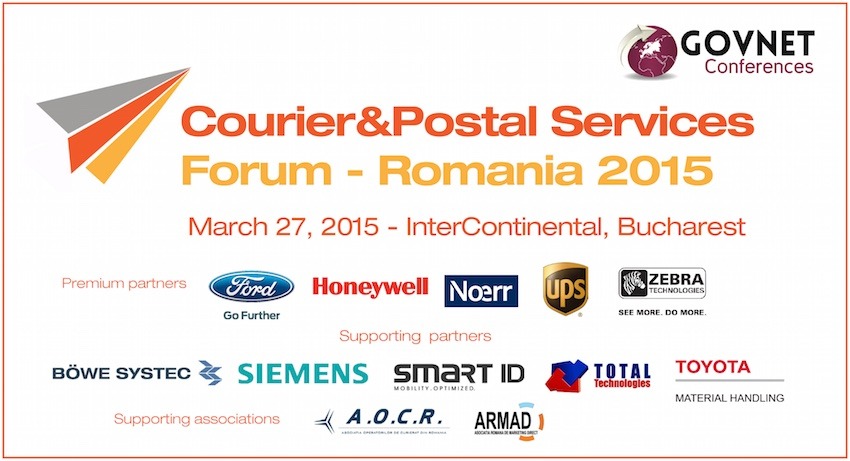 Courier and Postal Services Forum 2015
March 27, 2015, HOTEL INTERCONTINENTAL, BUCHAREST
The Romanian Courier services market is one of the most dynamic sectors with an estimated annual growth of more than 30 percent, one of the highest growing markets in BDC in Europe. Fuelled by the expansion of e-commerce, companies in the industry are looking for innovative ways to expand their business and respond to the changing demand of the customers.
The
Courier & Postal Services Forum 2015
aims to bring together representatives of courier and postal services companies to meet up with authorities, e-commerce community, clients, banks and payment service providers, equipment and other related businesses to exchange and share their experiences and research about the sector.
This will be a senior-level event, attracting the industry leaders in an interactive conference that allows to share thoughts on the best strategies and innovative products for growing your business.
Who will attend:
- Management representatives of courier and postal services companies
- Major clients for the courier service industry - Banks, e-commerce, Energy utilities, Medical, Telecom
- Representatives of authorities regulating the postal services in Romania
- Representatives of banks, card issuers, payment service providers, leasing and financial institutions
2014 edition Post Event Testimonials
"The Courier & Postal Services Forum was a good opportunity to consolidate our relationship with the industry, meet new people and find old acquaintances. The event facilitated a constructive exchange of ideas, as well as sharing views on the latest tendencies in the market. It was wonderful to see all that energy and willingness to innovate, it gave me great hope for the future of the postal sector in Romania. I am looking forward to the 2015 edition of the event."
Catalin MARINESCU, President – ANCOM
"Courier & Postal Services Forum 2014 did an extraordinary thing: to bring almost everyone involved in this market - competitors, customers, suppliers, authorities. The professionalism and openness shown by people with valuable business experience have made me and my colleagues participating in this event to be a very interesting, productive and enjoyable experience. I appreciate your initiative and I wish to see you again next year"
Dorin FIRUTI, General Manager – Romkuvert IND SRL
"The "Courier and Postal Services Forum 2014" was a fine initiative that we are very proud to have partnered with. Taking into account the development of the e-commerce sector, the Romanian courier market faces a series of opportunities that we should understand properly so as to make the most of, businesswise. The event has been a very interesting one, as it helped those present gain perspective on the directions of the Romanian market, with both opportunities and challenges. I very much appreciated the conference itself, the ideas and projects my fellow business partners presented, as well as the networking part, given the fact that successful professionals had an opportunity to exchange ideas and get in contact. We very much look forward to the next event."
Serban ZAVERDEANU, Director Executiv – Promotional Interservice
"An extremely beneficial event for both courier and postal services companies and their suppliers. The organization was impeccable and the moderator was at the height of the event managing to maintain control of discussions, presentations, but also of debates.
Govnet deserves all the compliments for this event, managing to gather under one roof for a few hours, the big names of the industry and to settle relations between courier companies and suppliers and service providers."
Daniel GHEORGHE, Account Manager – Truck Tires –Michelin Romania
"The event was very helpful, well organized and with many relevant guests"
Gabriel GHITA, Business Development Manager CEE, Customer Division – MasterCard
"The fear to participate in a first-conference event exclusively dedicated to couriers was immediately blown away by the room full of people very interested in the accomplishments and needs of the industry. It's a credit to the organizers who have acted levers needed to create opportunities. If the first step was done with such success that I can only be very optimistic in what I believe will become an event of great interest."
Felix PATRASCANU, Managing Director – FAN Courier
"First I want to thank GOVNET for the invitation.
Starting from the right location for such an event, analyzing the participants both in terms of the presence and quality (major public – executive management), moving to the quality of the presentations and experience of those who have presented, attention to topics and active participation throughout the day, made this event to be a successful one for both courier work and related activities. Courier activities are extremely interesting both for profile companies and for contributors, which is why discussions about the latest innovations and trends are necessary for proper development of this sector and to provide high quality services and affordable for customers. As a representative of the auto industry, I am excited to participate at such events during which we have the opportunity to identify new business opportunities and to meet the transport needs of our clients. As an invited speaker at this event, I want to congratulate you both for organisation and event program."
Daniel FLACAU, Senior Key Account Manager Vanzari Vehicule Comerciale – Renault Commercial Roumanie
"I would firstly like to congratulate you for the idea, its materialization and organization. It was a pleasure to know you and your colleagues with whom you have done an excellent job. I hope the next event to stand up to the one for which I congratulate you again."
Miklos SZOBOSZLAY, Division Manager – GLS Romania SRL
"Many Thanks for the conference organisation. It was very well run."
Mark HOBBS, Middle East Sales Manager – MiX Telematics
Program
08:30 - 09:00

Registration

Participants registration and wellcome networking coffee

09:00 - 10:30

First Panel

Romanian Courier and Postal services - market outlook

Regulatory aspects for the courier and postal services sector – the authority view

Main issues in the relation between the industry and regulating authorities – ANCOM, Ministry of Transport

Legislative aspects on regulatory and legal challenges affecting the industry

The Romanian Postal and Courier Industry sector - a realistic overview from the companies

10.00 - 10.30 - Q&A session and interactive debate

10:30 - 11:00

Networking Coffee Break

11:00 - 12:30

Second Panel

What couriers want. How to make the industry more efficient

Consumer demands - trends on the changing habits of the end customer - Study presentation

The importance of delivery services for the development of online commerce - quality of service, price and

accesibility for the end customer

When delivering from A to B is not enough

Who talks to the client? Where does a courier job begins and ends in the communication with the consumer?

Optimizing delivery times and the operational flux. Giving up " Check on Delivery"

Have a card? Use it in online – ways to increase e-payments and lower cash

12.00 - 12.30 Q&A Session and Interactive debate

12:30 - 13:30

Third Panel

Financing growth – options to explore

Financing growth - banks vs. the stock market vs. institutional investors

Romanian postal&courier services market - an attractive market for investors?

What are the drivers to secure success - niche markets to explore

Want to sell? Make your company attractive

13:30 - 14:30

Networking Lunch

The Courier and Postal Services Forum networking lunch will be the perfect opportunity to exchange views and strenghten future business ties with the sector representatives.
Speakers

The list of this year's speakers will be uploaded in the following days.
For any enquiries please contact our events department at : sales@govnet.ro
Venue
Hotel Intercontinental
BUCHAREST
Phone: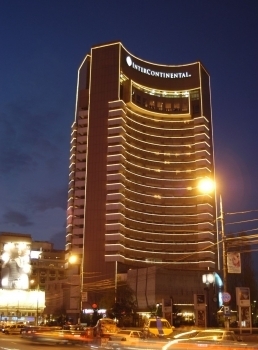 The Courier and Postal Services Forum 2015 will be organized at the InterContinental Hotel in Bucharest.

InterContinental Bucharest is a five star hotel that provides a highclass background for conferences, receptions and other types of events. Located right in the center of Bucharest, it is within walking distance from the Old City – Bucurestiul Vechi. The main subway station and the central bus station are just across the street. There are also taxi ranks directly in front of the hotel.

Special accommodation rates and hotel reservation

Summit participants benefit from special accommodation rates. Please send your accommodation requests directly to:
Mrs. Simona Sercan – Senior Convention Sales Manager
e-mail: simona.sercan@interconti.ro
Tel:+4021.305.10.18

If you are active in the Courier and Postal Services sector, this is an event you don't want to miss!
Registration:
Conference participation fee is
89 Euro/ person.
The fee includes the participation in the conference sessions, coffee breaks and lunch, as well as the conference proceedings documents.