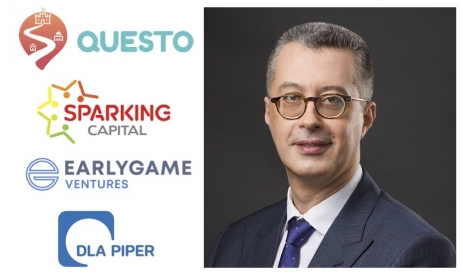 Marian Dinu, Country Managing Partner DLA Piper Romania
Early Game Ventures Investment Fund led a new round of funding for the Questo urban exploration game platform. With the participation of Sparking Capital, the investment worth 1.5 million dollars is the second that the two funds grant to the local startup Questo and received legal assistance from the lawyers of DLA Piper Romania.
The application developed by Questo works as a virtual tour guide with a gaming component based on different quests, through which users can explore various cities. The new round of investments will give the startup the opportunity to develop the application, currently available only in Europe, globally, with the aim of being present in 200 cities by the end of the year.
Cristian Munteanu, Managing Partner of Early Game Ventures, appreciates the way in which Questo has evolved so far and predicts an exponential development in the future: "Questo develops technology for one of the tourism sectors most affected by the COVID pandemic crisis: vertical experiences in tourist destinations. Through scalability (Questo is already present in 100 cities around the world), creativity, market success (over 100,000 quests played so far) and industry relevance, Questo confirms that it is a company with huge potential, one of the future unicorns in the Early Game Ventures portfolio ".
The legal aspects of the financing were managed by a multi-practice team DLA Piper Romania consisting of Marian Dinu (Country Managing Partner), Cristina Bucur (Counsel), Alina Lăcătuş (Partner), Diana Ristici (Head of Knowledge) and Ciprian Frandeş (Associate ). This project is the latest in a long line of Early Game Ventures funding that DLA Piper's lawyers have assisted, but atypical in the complexity of the transaction documents. "The main challenge was to find a balance between protecting the interests of investors and the normal operation of the business" said Marian Dinu, Country Managing Partner DLA Piper Romania.