Events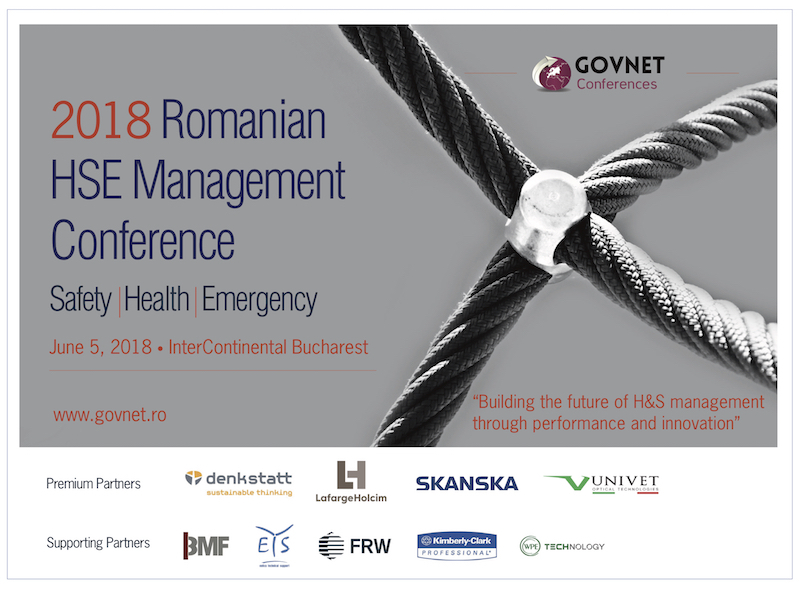 2018 Romanian HSE Management Conference
June 05, 2018, HOTEL INTERCONTINENTAL, BUCHAREST
The second annual edition of the Romanian HSE Management Conference is dedicated to provide a platform of best practice sharing for those developing and integrating strategic safety and health programs within companies.
Join your peers from leading companies, get exposed to new ideas, and learn from industry experts valuable information in your line of work.
KEY ASPECTS
The 2018 HSE Management Conference is set to be a must-attend event for everyone across the industry and beyond. It is expected to attract international and local industry specialists, operational and HSE staff, key service providers, government representatives and regulators.
It provides an essential forum for the industry to share knowledge, lessons and expertise and work together to achieve high HSE standards across all of the industry's activities.
"The future of H&S management through performance and innovation"
Who Should Attend
Health, safety, and environment specialists
Health, safety, and environment engineers
Safety and operations managers
Compliance officers
Environmental professionals
Business development managers
Other professionals concerned with health, safety, or the environment
Language: English and Romanian (with simultaneous translation provided)

Registration: Conference participation fee is 129 € + VAT/ person.
The fee includes the participation in the conference sessions, coffee breaks and lunch, as well as the conference proceedings documents.


All registration fees mentioned above exclude 19% Romanian VAT.

Registration conditions:

The program and the speakers are subject to change. Should the conference be cancelled due to force majeure, unavailability of the conference venue, speakers being prevented or for other good cause, the organizer reserves the right to cancel the conference. In case of cancellation all participants will be informed promptly. In this case, all registration fees will be reimbursed.

Substitution and cancellation policy

After registering for the Event, if you cancel your attendance more than one week prior to the date of the Event, you will receive a full refund of the amount of your payment. If you cancel within one weeks of the date of the Event, you will not be eligible for a refund; however, substitutions can be arranged with no extra cost from within a company or organization. No refunds for no shows. Cancellation requests must be received in writing.

Data protection and sharing of contact details

The Conference Organizer will collect and store your personal datafor the preparation and execution of the conference as well as to inform you about future projects related to your sector and line of work. Your contact data will only be passed on to partners directly involved in the conference organization process as partners for follow-up purposes. If you have any questions about our privacy policy and the processing of your e-mail and related personal data, do not hesitate to write us at sales@govnet.ro
Venue
Hotel Intercontinental
BUCHAREST
Phone:
InterContinental Bucharest is a five star hotel that provides a highclass background for conferences, receptions and other types of events. Located right in the center of Bucharest, it is within walking distance from the Old City – Bucurestiul Vechi. The main subway station and the central bus station are just across the street. There are also taxi ranks directly in front of the hotel.

Special accommodation rates and hotel reservation

Summit participants benefit from special accommodation rates. Please send your accommodation requests directly to:
Mrs. Simona Sercan – Senior Convention Sales Manager
e-mail: Simona.Sercan@ihg.com
Tel:+4021.305.10.18

Registration:
Conference participation fee is
129 € + VAT/ person.
EARLY BIRD Discount
- 15% for registration and payment by May 10, 2018
We have a number of rooms reserved for a special delegate rate at the InterContinental Hotel in Bucharest. Contact us for details at sales@govnet.ro
The fee includes the participation in the conference sessions, coffee breaks and lunch, as well as the conference proceedings documents.
All registration fees mentioned above exclude 19% Romanian VAT.